Have specific requirements and a clear vision for your project development? Then this model is the perfect choice for you. This hiring model comes handy to you when you need experts on the subject at cost-effective rates and are not ready to manage an in-house team of experts.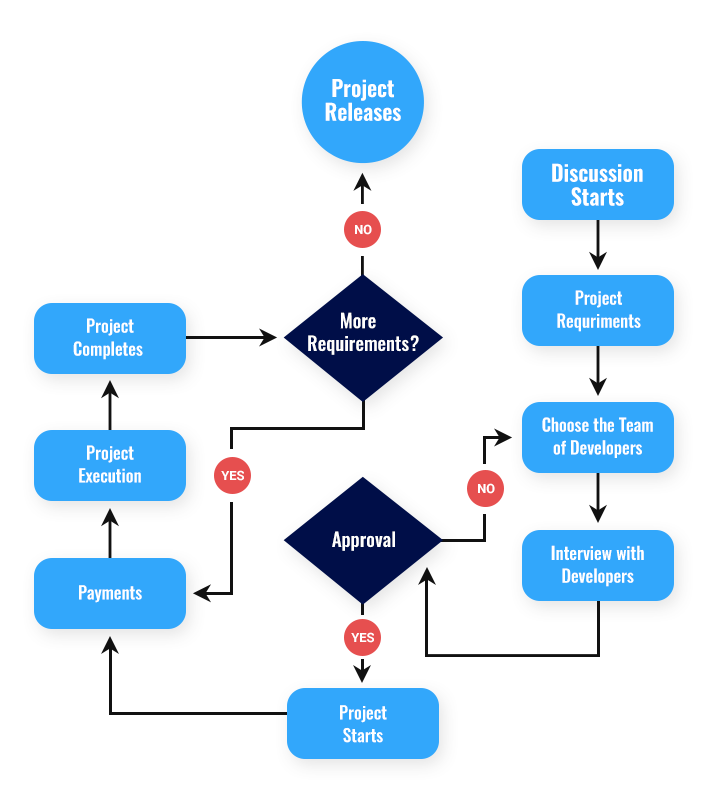 In the project-based model, the scope of work is already fixed and with respect to that, the fixed quote of time and cost is provided. This engagement model is ideally suited for open-source projects, Ecommerce, CMS, portal, mobile app, and other fixed scope development projects for SMEs and startups.
The fixed cost, fixed timeline, & fixed scope of the development project are the basic characteristic of this hiring model. Once you agree on the terms of the development project, we allocate a dedicated team of professionals comprising designers, developers, QA, and project managers. Our agile work methodologies ensure that your project is completed swiftly and delivered on-time. This model provides you flexibility as you have the fixed cost & time of your product's delivery so that your plans for launching and marketing can be carried out accordingly.
When we enter into a contract with this hiring model, we first do extensive requirement gathering. Based on that, we plan out the design & development phases carefully keeping the deadline in the mind. We have dexterous quality analysts with extensive experience in the field to ensure that your product is developed & tested under rigorous conditions to ensure it has the highest-order quality possible. Also, our cost-effective workflow makes sure that we deliver a highly efficient software product for all use cases. And finally, we provide monitoring and maintenance services even for the post-deployment period.
We have a whole ecosystem for you to track the progress. Also, a dedicated person from M-Connect Solutions will be in touch with you constantly to communicate and report progress. Thus, all the scrupulous benefits of this project-based hiring model make it a perfect model for corporate who don't need an in-house team to develop and maintain software products.
Model Best Suited For Projects Like:
Web Designing & Development
Graphic Designing
Ecommerce Development
Portal Development
CMS Development & Integration
Software Product Development
And Other Development Projects
Industries We Serve To:
Ecommerce & Retail
Entertainment & Media
Healthcare
Logistics & Transport
Education & E-Learning
Real Estate
And Others