A full-stack developer can do it all: from designing to developing, whether it is creating client-side or server-side scripts or creating interfaces. A great full-stack developer can do it all, like an actor who can do anything. Their skills range from developing full-fledged applications to building servers, databases, APIs, and MVC.
Full-stack developers are able to help individuals or companies to save a lot of money when dealing with various development stages. A full-stack developer possesses knowledge of front-end and back-end development, designing, server expertise, and mobile development. At the end of the day, they can oversee every detail of the project.
When your business runs on a tight budget, you want to save every penny you can when it comes to paying salaries. You know, this is the biggest vent that drains your valuable funds so quickly. Therefore, anything that saves your business money is actually earning you money. Because it is a money-savvy method of developing, full-stack development is one of those increasingly popular work modes.
The ability to write front-end and back-end code is no longer a problem for full stack developers
With little or no support, can develop a minimum viable product
A keen understanding of a handful of technologies
Ability to demonstrate a little understanding of technologies they have never used
The Importance of Having Full Stack developers for your business
Today, when there are thousands of options for everything, it is no secret that companies are looking for young, fresh, and new developers who can set the level of excellence with their skills. Due to the abundance of options for full-stack developers, it is becoming increasingly difficult to decide who can deliver excellence and match the role.
There are several reasons why companies hire full-stack developers for their software development projects. The following are some of the primary reasons why companies prefer full-stack developers.
In many cases, when a single person is required for the task, it's difficult for start-ups and small businesses to hire separate teams. It's when the full stacker can handle even the smallest requests and complete tasks.
The full stack developer works closely with the UI/UX designer and the other specialists
Full-stack developers are good at web development and management
Full-stack developers can code applications and program
Full-stack developers are able to troubleshoot even the most complex problems
Full-stack developers keep up with trends and latest developments
The full-stack developer can give you a direction even when they cannot fix it themselves
Reasons Why You Need Full Stack Developers for Your Business
When we discuss full-stack developers, we tend to think about the range of benefits they bring from the very beginning to the very end. Here, we will look at each and know-how a full-stack developer could be the best bet for business.
1. Cost Savvy
This is not hard to guess, as we have already discussed. No matter the size or scope of the project, companies with full-stack developers can offer cost-effective solutions. Full-stack developers are more efficient and reliable than their counterparts and this has become true since it has emerged as the ideal choice for companies seeking to build, design, or develop a product.
Due to the ability of full-stack developers to provide both front-end and back-end development services, anyone can develop any application or host any environment. They are also the best because they can provide work within a short time frame.
2. Prowess Service
Whether it's a website or application, you need a developer who can provide you with excellent solutions. You can expect quality and exceptional web development services when you hire full-stack developers. They say that better user experiences are complex inside, that's development magic. You need a professional web developer for this reason.
3. The ability to switch easily
A full stack developer can easily switch between front-end and back-end depending on the circumstances. Because they are only interested in solutions, they have always been able to deliver the right solution to any complex needs or projects.
4. Full stack developers are T-shaped
It is for this reason you may consider hiring full-stack developers for your software development needs. An example of a T-shaped developer would be a combination of horizontal and vertical lines. A horizontal line represents that developers are capable of solving any problem and a vertical line represents that they have deep knowledge of the development process. When compared to I-shaped developers, who lack knowledge of complex queries and are less productive, T-shaped developers are more efficient.
5. Solution-centric
Someone with a solution is more valuable than someone with knowledge. You cannot expect a solution from a developer who has only knowledge, but a developer who considers solutions may be able to offer one. Taking this into consideration, full-stack developers will always prioritize the solution, making them a great choice for any project.
6. Fit in small business owner shoes
If you are a start-up looking for a developer on a budget, a full stack developer might be the right option. Hence, this could be the best benefit since you can get a professional full-stack developer within your budget. A large business often needs both front-end and back-end developers to save time and meet web needs.
7. Troubleshoot issues easily
The full-stack developers can handle anything, whether it's identifying errors in projects or figuring out long-term solutions. With full-stack development services, you can troubleshoot issues with no time loss and continue your development process as usual.
8. Meet Deadlines
You will have your work delivered on time and even before the deadline when you have a team of full stack developers on your team. Each of them shares the responsibilities between them and makes sure that work is completed as quickly as possible.
9. Keep up with trends and latest developments
Full-stack developers know what's going on in the market, so they implement the same in their work, so your clients will be surprised that they have a best-in-class website. Also, providing your visitors with smart features will encourage them to revisit your website and benefit from the services you provide.
10. Build product from the scratch
This is probably the biggest benefit you can consider particularly if you are a start-up or an SEM since you do not have to hire developers to build your products. The full-stack developers will provide you with a 360-degree solution so that you can build a product from the ground up. They are much friendlier and that will help you build a better product with your team.
Conclusion
The aforementioned are the reasons a full stack developer is the best bet for your business. You can see that a full stack developer can accomplish a lot and it is undoubtedly a good idea to hire a full stack developer for any software development needs.
Looking for a software development company? M-connect Solutions can provide you with web developers, mobile developers, and enterprise eCommerce solutions to help you achieve world-class development benefits at competitive prices. With a user-centric approach, our IT solutions address your business's needs. Contact us today for more information!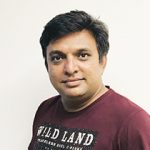 About Hemant Parmar
Hemant Parmar is an eCommerce expert and a keen Magento consultant who specializes in meeting the needs of businesses in the e-commerce space. Years in the eCommerce market make him a perfect choice for sharing his expertise on eCommerce and Magento 2 development. He believes that customers need to be met no matter how challenging it might be.
Read More