How do you think a CMS…content management system, will improve the effectiveness of any website? Why should you choose CMS in the first place at all? What are the advantages that appropriate choice of good CMS website will bring along?
Here is a small effort to find out what the main reasons are to choose a CMS for an online business enterprise.
We perfectly understand that major search engines like unique and fresh content. And when the content is found to be old, the websites cease to find a place in the top search engine rankings. And this is the main reason for downfall of majority of the websites.
Their content has become outdated. This old content does no longer appeal to the visitors as they are looking for something new and fresh. As a result, the website owners are frustrated and disappointed too as they do not have adequate resources to update their websites. They will have to depend on outside resources and probably spend some money too. And how frequently do they have to repeat this exercise? There are all these factors that need to be borne in mind.
It is the sheer facility to update one's website content on their own, without depending on a web developer that makes CMS the ideal option. CMS is highly intuitive and a good CMS will definitely bring along lot many benefits by ameliorating the effectiveness of the website.
Let us first understand what content management system is.
Content Management System enables the website owner to update or change his website content on his own, without any professional help rendered by a web developer or designer. It is this ability that gives the business owner the freedom for publishing a whole range of information.
Announcements can be made, news can be shared and press releases posted. Special offers could be included; product details changed or included, testimonials can be posted and downloads can be included. You will now be able to update images or text on your own on your website, relying less on your web designer.
By doing so, the cost of services of web designers will mitigate considerably. With a good CMS you can bid adieu to inaccurate or outdated content on your website and refresh it immediately. You will now not miss any business opportunity because you were unable to update a specific topic in response to the market requirements.
Here are the main reasons for choosing a good CMS:
Low maintenance costs for your website. The most blatant benefit is that of a monetary one. You do not have to pay your web designer for each and every change that you make in the content from now on. You can now incur only a fixed maintenance charge.
Make timely changes. CMS gives you the scope to incorporate changes immediately on your website. In addition to that, every CMS has a provision for adding a start date and an end date for the content you have posted. You have direct access and control too as to what is going to appear on your website. If you want to show a specific content during a particular time of the year, you can do so with the help of CMS. You will not have to remember the dates of posting and deleting the content as it will be done automatically on the specified dates.
Offers great flexibility. Displaying content on the website at different places becomes easy. And it can be done creatively too which will engage the visitors and make the website more interesting.
Good Search Engine Ranking. When you are adding fresh content at regular intervals, it will definitely attract good rankings in the search engines too. Topical content can be added to the website which will in turn enhance the profile of the website in the eyes of the search engines. This will definitely bestow a good ranking that will in turn attract more visitors to the website.
Calls for No Technical Expertise. CMS totally eliminates need for technical expertise as far as changing content and creating web pages are concerned. You can fully focus on the content without bothering about the appearance or layout of the website. If you have to update a website without CMS you will have to buy an appropriate web editing software for your computer, and then acquire specific skills in web design. All such complexities are completely eliminated with the right CMS.
A content management system also helps to develop mobile CMS website with full flexibility in update, designing and customization. CMS is one essential tool for all business owners to enhance the effectiveness of their website by way of offering their visitors with engaging and fresh content. CMS provides the main benefit of adding innovative, unique and original content as and when needed and helps cut down on maintenance costs easily.
Related Blog Post:
SaaS CMS: SaaS Based CMS is Ideal Choice for SMBs
Yii Framework Justifies Matchless CMS Development
Mobile Web Site CMS: A Sneak Peek
CMS (Content Management Systems) for Education Industry Website
List of Content Management Frameworks Based on JAVA Technology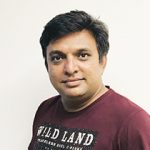 About Hemant Parmar
Hemant Parmar is an eCommerce expert and a keen Magento consultant who specializes in meeting the needs of businesses in the e-commerce space. Years in the eCommerce market make him a perfect choice for sharing his expertise on eCommerce and Magento 2 development. He believes that customers need to be met no matter how challenging it might be.
Read More