Yii is an open source, secure, object-oriented, professional web application development framework based on PHP. Its prime features include MVC architecture, jQuery integration, Ajax based widgets, authentication support and validation mechanism etc. It follows web 2.0 standard of coding and is very powerful framework for design and development of Content Management System.
Content management system facilitates centralized management of content editing, modifying and publishing. Its built-in procedures govern the work flow making management of enterprise level content effective. CMS conveys right information flow within and outside the company to acquaint clients, business associates and staff.
Yii framework's PHP background makes it an ideal choice for CMS design and development. Being an open source it is cost effective as well, plus it has plethora of functionalities that best serves CMS requirements. YII's systematic approach for fully fledged development of multilingual blogs, article, tutorials, and custom pages makes it a reliable and popular choice for CMS.
Yii has amazing fully featured CMS functionalities for generating custom tags, search engine optimization, internal and external links support, event listing and social networking site apps to name a few. Add-ons like appendo, timepicker, GUrlValidator, jqueryslidemenu, support manager, SEO ready, language manager and versatile control panel make it a matchless option for CMS.
It is highly secure as it allows limited access to users by assigning roles. Yii is completely customizable and a highly evolved framework for CMS solutions. Compatible with all browsers, Yii can actualize enthralling and dynamic CMS development. So, if you are in a spree of creating a CMS or changing the exiting one, YII framework is the best choice!!!
If you are looking for Yii framework CMS then please feel free to contact us.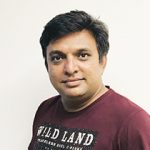 About Hemant Parmar
Hemant Parmar is an eCommerce expert and a keen Magento consultant who specializes in meeting the needs of businesses in the e-commerce space. Years in the eCommerce market make him a perfect choice for sharing his expertise on eCommerce and Magento 2 development. He believes that customers need to be met no matter how challenging it might be.
Read More