Useful and breathtaking designs are made by creating a successful and Clean UI for your website users. It really consume too much time to understand how to make a very terrific user experience on your and on your clients website unless you are UI master.
Here some tips which helps all UI designers and web designers. By sharing 5 extremely helping and effective UI designing principles that pop ups from some of greatest minds in designing User interface field…
UI (User Interface) are what that classify the top-notch websites from crappy websites. Not well design UI can make very useful Web apps useless apps…why? You know the answer this question just asks from yourself if you don't know then let me tell you.
Because your UI are not well tested and optimized.. Imagine if FaceBook has more complication in its UI then I don't think right now FaceBook doesn't have very bright future like today. Or if you keep your eye on Google then you able to see Google is also changing its UI because of increased complexity.
If users are not able to easily navigate a website, then they'll skip your website and move to another similar website that provides better UI structure and UI experience then your website.

1.) Don't forget about your audience
UI designers have their concentration on using CSS and XHTML to build a terrific UI interface in mean while they forget about their audience and people who going to use that UI. CSS and XHTML or other Coding languages are just a tool; you only have to know how to use these tools for building terrific user interface.
I'm very glad that your UI doesn't include tables. So what? Who cares if it doesn't allows peoples to achieve their goals. Web standards are good, but people's own standards are getting things done.
UI designers are making the same old school basic mistake, and forgetting about your audience and human being for just making their code look clean and good.
Remember human beings are not code validations; they are just UI users….

2.) Background Color
It's very common mistakes by lots of web designer and UI designer they forget about specifying the background color on their website. They will spend there most of times on designing wire-frames and making CSS hacks for browser and they will test it in every platform from old Mac to blackberry, and of course they are going to validate their CSS style sheets.
But after doing all of this they will forget about applying background color for their website. And they don't even think for checking it out…

3.)Error Pages
The most common words are used in error pages of website.
"Something Wrong , please go back and check it out " without explaining how and why this error page has been shown to user and how can they get rid of by this error page… this types of messages leaves users stranded..
Informative error message help your users to fix the problem, and they can also able to learn something new at this stage. Typically human nature says that lots of human doesn't waste to much time on reading and learning features, but they will spend enough time to understand and error situation for coming out from the error situation.

4.) User Control And Freedom
Sometime users by mistake choose system functions and then they will clearly get a messaged pop up marked as "Emergency Exits"….. Undo and redo support…

5.) Keep The Consistency
Consistency is one of most important and very powerful UI principle.
Remember when things are always acting same then you user doesn't have to think about what will going to happen next. Instead, they will know very well what will going to happen if they do this and they do that from their past experience with your website.
Every time you are going to release apple over Newton, it will fall on his head….
The more users exception get rights, the more they feel they have control over the system and in end the more they will going to like it. And the more users expectations gets break by your system (UI) then the more they will feel insecure.
And these will going to lead your system get fail's…
What you think about this post or you have some extra ideas to improve UI then please share it with us in below comment section…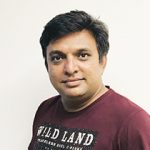 About Hemant Parmar
Hemant Parmar is an eCommerce expert and a keen Magento consultant who specializes in meeting the needs of businesses in the e-commerce space. Years in the eCommerce market make him a perfect choice for sharing his expertise on eCommerce and Magento 2 development. He believes that customers need to be met no matter how challenging it might be.
Read More