After Android Pie, Google is heading to release Android Q in the last quarter of 2019, means next month. At present, it's Beta release is under the scrutiny.
Android Q is not the official name of the upcoming operating system, but people assume that it would be Quince Jelly. At present, the beta version of Android Q is available on a range of Pixel series of Google smartphone and other manufacturers have to wait to include their devices in the list.
Google has clarified things beautifully in its preview page. It has predicted that Android Q is for three prime things.
Behavioral changes
Privacy features
New features, as well as APIs.
Google already have described things in details on its preview page. So, I will go to repeat the same here. Instead, I would like to discuss some new features included in Android Q, which aim to enhance the UX and security aspects of the operating system.
Expandable Volume Button:
Earlier, in Android Pie, Google has changed UX with the volume button, albeit with some mistakes. Thereby, in Android Q, Google is going to correct those annoying procedure and enhanced it by giving the expandable volume button that can provide contextual menu instead of directly heading towards setting menu with the gear icon.
Enhanced Navigation Gestures:
When Google has made changes in navigation gestures in Android Pie, users never have realized any apparent benefits of it. So, it compels Google to follow the path of the iOS platform for navigation gestures.
In Android Q, it is working on pill feature and going to replace it with a contextual back button found in iOS versions.
Augmentation of Notification Bubble:
Android Q has introduced a screen overlay feature for a message bubble display. It enables users to keep conversations continue while using other applications same the time. Users can tap the head of the chat bubble and activate it, send the message, and tap it again to inactivate it or drag it to bottom to dismiss it.
Google is going to give official recognition to the chat bubble or messenger head like Facebook is using for years, but final implementations of it are in the hands of ultimate developers going to Android app development.
Introduction of Music Notification:
It is an excellent feature that eliminates go in a music app to enjoy the music and get notifications from music apps like Google Play Music and Spotify. It has Seek Bars to scroll music tracks & podcasts with this new provision.
Improved Share Menu:
In Android Q, Google has made share menu faster and comfortable than ever. Now, share menu shows title and thumbnail so users can get clues about what is going to share.
Refined Screenshots:
Google has introduced rounded corners and notches in the screenshots with a first beta version of Android Q. however, next beta, it has removed it, and now screenshots look unrefined and more natural.
Select the Swipe Direction for Notification:
In earlier beta, Google has defined swipe direction to dismiss the notification. After receiving enough criticism, it has changed it and give it in the hands of users to select the direction to swipe away their notifications.
Video Capture & Streaming:
With HDR10+ support, Google has improved video capture quality. Moreover, with the introduction of AVI video codec, it enables users to stream high quality videos to Android phones.
Depth Formats of a Photo:
When a camera with multiple lenses takes a photo, the depth information also stored with the photo itself. Now, Android Q enables photo editing apps to access that information. It helps various photo editing apps to edit different effects like blur or bokeh effects.
Supports for Folded Phones:
Android Q is ultimately supporting the features specially designed for folded phones. Android Q is deciding how various apps resize on the screen of folded phones.
Permission Control:
Android Q has revamped the permission control. For example, control over the location data. Users have the freedom to share their location data as iOS users can. Similarly, users have control over shared files. System file picker feature allows users to decide which files or photos apps can access
Desktop Mode:
XDA developers have revealed that no apparent desktop mode feature was found in beta version, but there is a provision for forced desktop mode that indicates that it is in Alpha version and the team is working on it.
Dark Theme:
We know well that dark theme always ease the users' eyes while on mobile devices, it saves battery life on LED displays. Google has introduced it in the latest version with enough options to play with it. For instance, users can select schedule the dark mode that is changing with daylight or keep dark mode always on or off.
Wrapping It Up
Apart from these main UX related offerings, there are many miscellaneous changes found in Android Q, but I avoid all to describe here. If you are curious enough to know more about Android Q and wish to have your next project using its official release.
M-Connect Solutions is an Android app development company with an updated team of Android developers who always keep pace with upcoming releases and provide the latest features, functionality, and enhanced user experiences to their patrons. Let's discuss your next project.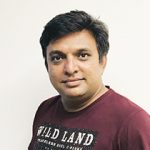 About Hemant Parmar
Hemant Parmar is an eCommerce expert and a keen Magento consultant who specializes in meeting the needs of businesses in the e-commerce space. Years in the eCommerce market make him a perfect choice for sharing his expertise on eCommerce and Magento 2 development. He believes that customers need to be met no matter how challenging it might be.
Read More