Today, we are going to bust some myths that are going around for one of the robust cross-platform app development frameworks, Ionic. In such a short period of time, Ionic has gained a name for itself in the app development industry. Built on top of AngularJs and Apache Cordova, Ionic provides tools based on modern web technologies like CSS, HTML5 & others to build hybrid, desktop, and Progressive Web Apps (PWA).
As with any app development framework, there are several myths associated with the Ionic platform too. Seeing its popularity, it would be easy for anyone to guess that the framework must have so many misconceptions built around it. And today, with this article, we are going to see and bust top myths and misconceptions for the Ionic app development framework.
Top Ionic App Development Myths Busted
Ionic is known for making cross-platform & hybrid apps easier, faster, and more accessible. It has been adopted and used by over 5 million+ developers from around 200 countries. Still, who are reluctant to use the framework due to some myths or misconceptions, here, we've busted some of them.
Myth – 1. Ionic is Just Like Other Platforms
Did you know that 20% of the apps in App stores are powered by the Ionic framework? Well, it is as true as the fact that it has become one of the leading platforms around the world. Ionic has helped many startups and enterprises with its JavaScript-enabled app development framework.
Ionic is the first web company that incorporated open standards, tools, frameworks, and libraries that app developers from around the world are familiar with. All these helps app developers to build stunning and high-performing cross-platform apps having a single shared code-base. Thanks to it being a free, open-source, and highly functional framework, Ionic is not like other platforms. So, next time hear it, consider this a myth only.
Myth – 2. Ionic Apps Are Not As Good As Native Apps
This myth is not particularly related to only apps developed on Ionic, but rather it's associated with all other cross-platform app development frameworks. Well, we cannot compare apples with oranges. And in the same way, we cannot compare apps developed on frameworks like Ionic with apps developed on native frameworks. Yes, there'll be some differences but that won't make any big difference.
Thanks to the continuous advancement in the app development field, app developers now can create cross-platform and hybrid apps with no significant difference in capabilities, features, and performance. The myth originates when there's a lag in performance due to the native compilation for each time animation or navigation is used.
However, the top app development experts like M-Connect Solutions can mitigate such problems with ease and provide you app developed on Ionic as capable & good as native apps. Moreover, Ionic apps have a mixture of native and web code, which gives access to native functionalities to make the app as good as native.
Myth – 3: Ionic is a Complex Platform to Develop Apps
In mobile app development, the bar has been already set high. And Ionic lives up to the expectations of developers perfectly to build apps that are secure, lightning-fast, and offer a seamless experience. It offers powerful tools to develop apps that deliver a peerless mobile experience across Android and iOS devices.
Ionic framework is built in a way that allows developers to use the single codebase for all use-cases. Developers can move fast, create more, spend less, and build better apps using the Ionic platform. It is a developer-friendly suite that helps you create cross-platform, hybrid, and web apps with support from the Ionic team every step of the way. Just install the framework and you can start with its existing templates or make new ones for your app development.
Myth – 4. Slowly Ionic Will Disappear
Despite what everyone is saying, the Ionic is not going to disappear soon. Not at least for a decade or so. This is because Ionic is already a great platform, and offers enterprise development companies to deliver a seamless digital experience. Launched back in 2013, Ionic has been able to successfully transform the way developers build cross-platform and hybrid apps.
And recent development from the company also suggests that the app development framework will stay strong and solid in the coming years as well. Moreover, 5 million apps have been build using the Ionic platform that makes it the leading cross-platform app development framework. So, the things like Ionic will disappear seem to be irrelevant here.
Myth – 5. Support is Limited From Ionic
Over the years, the support from the Ionic team has improved so much. Their large pool of strong community is also ready to help anytime you want. And thanks to the trust of more than 5 million developers, the company is constantly striving to offer reliable support for the frameworks and tools they offer by taking proper precautions.
Currently, Ionic has a forum on their community website, World Wide Slack, and Stack Overflow where users can get help. Moreover, they offer Enterprise Support with timely guidance whenever you need it. And their advisory services help you tackle your biggest challenges at every stage of the development with tailored solutions. From all these, we can say that support from Ionic is limited is nothing but a myth.
Myth – 6. Apps Built on Ionic are of Passing Trend
Another myth that revolves around Ionic is the apps built using the framework are outdated and of passing trends. The framework can't keep up with the latest app development trends. Well, that's not true at all.
The all new Ionic storage v3 includes support for React, Vue, and other JS-based libraries along with Angular still there. This enhances the capability of the framework to develop apps with the latest trends. If you see their release notes, the Ionic development team is constantly upgrading their framework, eliminating bugs, and adding new features into their Ionic 5 platform.
The last major upgrade which was Ionic 5, included massive app design changes across UI components. So, we can safely say that apps built on Ionic are not of a passing trend.
Conclusion
So, here're some of the top and common myths our team has busted and provided you valid reasons to not believe in them. Ionic is one of the robust platforms that offer so many features, tools, and libraries. It is an open-source UI toolkit to develop apps that are hybrid and cross-platform. The framework is best-suited for building high-quality apps that provide a native-like experience to app users. Along with Angular, it now supports React, Vue, and other JavaScript projects making it one of the powerful app development frameworks.
Want to develop a cross-platform or hybrid app on Ionic? M-Connect Solutions can help. We have an apt team of cross-platform developers with ironclad proficiency to develop the most engaging app with native-like experience and performance. Contact us now to kick start your project.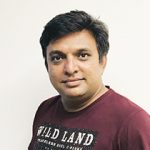 About Hemant Parmar
Hemant Parmar is an eCommerce expert and a keen Magento consultant who specializes in meeting the needs of businesses in the e-commerce space. Years in the eCommerce market make him a perfect choice for sharing his expertise on eCommerce and Magento 2 development. He believes that customers need to be met no matter how challenging it might be.
Read More