The revolution brought by the invention of the internet is unmatchable for humankind. And the invention of online selling and buying is bringing convenience in the life of people which is a revolution in itself.
From small items to large products, everything is now available for sale on online platforms, which users can buy thanks to the internet. This idea of selling and buying through the internet is known as Ecommerce or Electronic Commerce. Not only that, but users can do all sorts of things from paying bills, trading, and ordering anything while sitting at one place.
It has become part of our routine life and has reached a level where living without the internet and Ecommerce seems unfathomable. The idea of Ecommerce was started in the 1970s and since then it has paved a way for modern-day Ecommerce that we know today. It has become possible today only because of the commercialization of the internet for the general public in 1991.
Started in 1994, Amazon.com become the most successful Ecommerce brand, which thousands of businesses have followed. Safety, user experience, and convenience has improved significantly since its inception.
As all of this was not enough, MCommerce has put Ecommerce into the hands of people. Mobile commerce or simply say MCommerce, coined by Kevin Duffey in 1997 at a global mobile commerce forum, provides the capabilities of Ecommerce into the hands and pockets of users. The concept was brought to life by Coca-Cola in the same year when it installed mobile-enabled vending machines that accepted payments via text message in the city of Helsinki. It was just a start, but the modern-day MCommerce has completed transformed. So, what MCommerce actually is?
What is MCommerce? (Mobile Commerce)
Mobile Commerce or MCommerce is a branch of Ecommerce, which allows all the activities of electronic commerce from wireless devices like smartphones, tablets, and others. It is a form of Ecommerce giving users more convenience, freedom, and safety to buy goods and services through their handheld devices.
The launch of iPhone and Android devices changed the landscape of mobile commerce which we know today. These devices brought major change from SMS messaging to developing actual mobile applications. Trading and online shopping have also witnessed a seismic change by providing Ecommerce capabilities in the hands of mobile users.
MCommerce enabled users to perform in-app purchasing, mobile banking, digital payments through wallets, purchasing of stocks & cryptocurrencies, and others from mobile devices without desktop computers. The delivery of content on mobile devices became more secure, faster, and scalable due to the increasing rate of penetration of mobile devices.
As per one report by Statista, more than 53% of all the retail Ecommerce sales will happen through mobile devices (MCommerce) in the year 2021. If the 1990s and 2000 was an era of Ecommerce, then the time before & after 2020 is an era of mobile commerce. The exponential rise of mobile commerce makes it something business and entrepreneurs can't ignore.
Due to its rising popularity, many business giants and even the government bodies have capitalized by launching new products, services, and others for users to trade and shop on mobile. But there is a fundamental difference between Ecommerce & MCommerce.
Difference between Ecommerce & MCommerce
Even though the meaning and aim of both are similar, which is to make the lives of users simple and easy, both Ecommerce and MCommerce are fundamentally distinct from each other. MCommerce can be seen as a subcategory under the umbrella of Ecommerce with a focus on buying and selling goods, services, and perform other transactions on mobile devices.
Both are dependent on the use of the internet but have many glaring differences as discussed below.
Activities for electronic commerce are conducted with the help of desktop computers or laptops. Thus, users who do not have such devices, have to find a facility that does to conduct their transactions. Also, it does not provide convenience while users are on the move.
Whereas MCommerce implies the use of mobile devices to conduct commerce activities. Due to the convenience offered by it, people can do their business and transaction wherever they are as long as they have an internet connection. Also, the introduction of mobile payment wallets has made online purchasing more streamlined than Ecommerce.
Due to the non-portability of the devices used for conducting Ecommerce activity, it has limited capability to track the location of users to provide personalized content.
But in MCommerce, most users carry their mobile devices wherever they go thus, it becomes easy to track their location through GPS, Wi-Fi, or other technology. With the help of the users' location, businesses can send personalized notifications, content, and recommendations to increase sales and conversion.
Push notifications is delivered directly on the mobile devices of the users, which is not effective when it comes to Ecommerce. If compared with promotional emails, push notifications are less intrusive deemed to work more effectively for mobile commerce. Push notifications can show elegant looking images of products to lead and engage users to that product in a particular MCommerce app. With a high opt-in rate, push notification has high chances to grab users' attention.
Security plays a vital role in any transaction taking over the internet. For Ecommerce, most transactions happen through credit cards. But as per one research, most Americans and citizens from other countries are concerned about their online security and privacy. Thus, it poses a challenge for Ecommerce because consumers are afraid to share their credit card details.
But MCommerce apps have extensive security capabilities such as biometric authentication in addition to two-factor & other multi-level authentication. Thus, users are assured that they are transacting safely & securely.
Omnichannel is about utilizing the aforementioned mobility of MCommerce to your benefit to provide customers with a seamless user experience. Omnichannel means marketing, selling, and serving customers for integrated and cohesive experience irrespective of the channel of communication. It ensures that businesses provide services to customers at the right moment when they need them. And the advancement in mobile commerce makes it possible to provide a true omnichannel experience to users.
As we know that Ecommerce operations are conducted through desktops & laptops, which are used for a certain period in a day. Consumers use such devices for a limited time and once shut off, it becomes harder to target consumers.
But this is not the case in the MCommerce app. Here consumers use mobile devices to conduct the operation, which they use throughout the day without turning them off. These devices are 24/7 on and businesses can target them anytime they want.
In addition to these, MCommerce provides more ease of use, convenience, cost-saving, and other numerous benefits over Ecommerce, which makes it a more user-friendly choice.
Benefits of MCommerce – Is it Helpful?
Shifting from a traditional Ecommerce to mobile commerce is a daunting task but there are proven benefits of doing so that make the shift worthwhile for your business. Below are the few benefits of MCommerce.
More and Better Customer Data:
To gain more and better customer data, we need to understand the shopping behavior of customers. Because these data provide a competitive edge to businesses over others. And mobile apps play a vital role to gather crucial customer data. Information like browsing history, interests, and others help personalize the shopping experience of customers.
Also, advanced technologies like AI & big data are helpful in offering targeted promotions that have more chances to engage and convert users.
Boost in Sales & Revenue:
As per one report by Oberlo, mobile commerce sales growth has doubled in 2019 compared to 2016. Also, it is predicted to rise further at the rate of 25.4 and 22.3 year-on-year for 2020, and 2021 respectively.
And not only that, but the total number of time spent on mobile devices is increasing along with the number of total mobile users. The market share of internet usage through mobile increased from 26% in 2014 to 48% in 2019. Moreover, the market share of mobile commerce sales out of all Ecommerce sales grew to 67.2% for this year compared to 52.4% in 2016. This means that every 2 out of 3 dollars spent online for purchases happen through mobile devices.
Enhanced User Experience with Personal Touch:
The personal touch in the form of product listing or promotional offers, make your brand stand out. It is a secret of thriving businesses to keep their users engaged and provide a personalized user experience. And MCommerce helps to enhance and make customers perceive that they are given the best user experience.
One way to do so is by providing streamlined customer support using the responsive live chat app or making refunds or exchange more easy which will help you strengthen your brand identity.
With MCommerce, your ad spends are likely to reduce because of its direct reach to targeted users. Brands can deliver their latest offerings and promotional messages directly on the MCommerce app through the use of push notification. Due to the reduction in ad-spends, the cost of customer acquisition and retention will also reduce which helps brands to achieve high-profit margins.
Also, the cost of developing a fully functional mobile app for commerce functions has decreased because of the advanced tools that simplify the process.
Wrapping Up
The value of mobile commerce is increasing because of the increasing number of people using the Ecommerce platform via mobile devices. MCommerce offers unique characteristics and wonderful advantages such as portability, accessibility, and connectivity all of which help mobile commerce to grow rapidly.
Thus, it has become inevitable for brands that want to sustain their business in the future and have to shift from Ecommerce to MCommerce. Also, experts at MCS Ventures advice to jump on the wagon now for better connectedness, engagement, and personalization. If you still have some doubts, then you can clear them up with our experts. Contact us now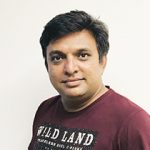 About Hemant Parmar
Hemant Parmar is an eCommerce expert and a keen Magento consultant who specializes in meeting the needs of businesses in the e-commerce space. Years in the eCommerce market make him a perfect choice for sharing his expertise on eCommerce and Magento 2 development. He believes that customers need to be met no matter how challenging it might be.
Read More