Designing a homepage for your website is always one of the challenging aspects. Here's why: the homepage presents your brand image, unique selling points, and helps boost conversion rate. It carries vital details and that too in a relatively short space for users to digest.
The homepage acts as a catalyst that offers or guides visitors to a part of your website where they are presented with opportunities to convert. This means you have to be specific and to the point by squeezing a lot of information in.
Thus, when it comes to designing a homepage, one needs to get finer while adding conversion-centric details that keep the traffic curve high and generate quality leads. To give you an idea of how finer you have to go, we are presenting homepage design tweaks you have to make for conversion optimization.
Top Homepage Design Tweaks to Boost Sales and Conversions
Let's get directly into the design tweaks that align with your higher sales and conversion goals.
1. Streamline the Hero Section
The hero section, also known as "Hero Image" or "Hero Header", is a design element in the form of an image, slider, text, or similar element. It usually takes place at the top of your homepage layout.
You'll find many online articles with the typical same concept on how to improve the top section of your homepage. They tell you to optimize your call-to-action, colors, buttons, use compelling images, and many other things. The problem here is even if such things work, they have become typical in any conversion optimization handbook.
But sometimes streamlining the Hero section of your homepage with a simplified approach is better. Many of the brands adopted such simplification for their website.
Naturally, we all want visitors to convert as soon as they land on our website. However, simplifying things by ditching CTAs & buttons and incorporating a simple, meaningful message that communicates your USP will help accelerate the business growth.
Streamlining the Hero section means taking the load off from users and eliminate the need to take action and enable them to scroll for more info about your business. Such design tweaks can help you boost customer engagement, lower bounce rates, and enhances chances of conversions.
All it takes for visitors to convert is removing the early distractions like CTAs and replacing them with a strong message that hits them when they land on your website for the first time.
2. Include Multi-Step Forms
Switching to a multi-step form is another significant design change that'll help brands to boost their conversions. While a best practice that many follow is making forms shorter and less cluttered for a higher conversion ratio. It is a great theory that doesn't make any sense when it comes to conversion optimization in the real world.
However, while working on one of the projects to implement a multi-step form, we realized that general consensus doesn't add up. We refined our approach and incorporated an intuitive format using interactive questions & conditional logic. Now, this approach helps users to guide through their sales funnel with different conversion types.
We created an integrated multi-step form that helps our clients to get different kinds of leads based on their needs. Further, they don't need to navigate through different parts of the website and getting lost in the process.
Also, such a design tweak is ideal for websites with multiple promotions to offer. Since our implementation of the multi-step form, the client had seen a staggering 300% increase in their conversion. It was the single biggest change for our clients to date that created all the difference.
3. Changing Content Strategy
Instead of selling services tell your visitors stories that essentially portray short case studies of your brand's success. Telling stories is another great design change that follows the same principle of our advice on changing the hero section of the home page. By incorporating a new content strategy, businesses can show short success stories that impact visitor's choices and ultimately boost conversions.
You can conduct various trials to find out what impacts the most on the user's choice and boost conversions along the way. But whatever they may, keep them short and use a compelling headline that addresses their needs and highlights concerns.
We split tested this strategy on our clients with different conversion options to see what works better. The first test involved creating a page for each short case study and placing an email sign-up. Another variation involved asking for emails directly without the mess of creating pages. The last variation we created was to use an exit-intent popup instead of asking for emails.
The results were surprisingly great for the second variation we created. Thus, we dropped all other variations and focused on prompting users to submit their emails for short case studies in the form of stories. With this change in content strategy where instead of promoting services directly, we increased conversions for our clients by almost 100% in a year.
4. Use Impactful Images
Visual content like high-quality images receive higher engagement and views and influence the choice of a viewer significantly. In fact, there's a direct link between using compelling images to increase the conversion rate. Further, the personalized images are said to boost conversion rate by double for many brands.
This is because most users will associate high-quality images with the quality of your products or services. Also, impactful images make brands come across as unique and dedicated.
So, what we did was change existing compelling images with personalized human faces. Humans love to see other humans to feel the connection, which gives your business a human touch. Including such images in your homepage design helps keep the overall design in line with the brand's message and goals.
Simple Tweaks Bring More Impact
Knowing what simple tests or tweaks to run on your website can bring more impact on your conversion rate optimization. You will find many UX best practices and design guides where brands waste nothing but money and time. Each tweak mentioned here breaks one or many of such UX best practices and still achieved a higher conversion rate for our clients.
Need to make such tweaks and customization for your website? M-Connect Solutions is a place where you get started. We offer the most innovative, cost-effective, and enriching custom design and development solutions that help bring your website to the forefront, leaving behind your competitors. Contact us now for further discussion on the same or something else you have in mind and let's kickstart your project together.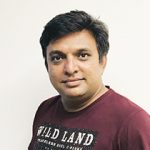 About Hemant Parmar
Hemant Parmar is an eCommerce expert and a keen Magento consultant who specializes in meeting the needs of businesses in the e-commerce space. Years in the eCommerce market make him a perfect choice for sharing his expertise on eCommerce and Magento 2 development. He believes that customers need to be met no matter how challenging it might be.
Read More