The best thing about live chat & Chatbots is they are completely automated tools. Thanks to such automation, there's a drastic rise in the utilization of live chat programs by websites over the past few years. With this rise, Chatbots – a spin on the live chat feature helps capitalize on the trend to generate leads for businesses.
But the thing to know here is, does this technology really work? Or is it just another fad?
As per a report published in Forbes, 62% of US consumers like using Chatbots to interact with businesses. Another report by Salesforce also confirms the same that consumers prefer talking to Chatbots rather than calling or emailing the support team.
Such statistics make sense because the world has become fast-paced and no one likes to be on hold or wait for someone to read & reply to their emails. And it seems businesses have listened to the needs of their consumers. Separate studies from Oracle & Juniper predict that 80% of businesses plan to integrate Chatbots, which will help them save $8 billion in costs.
That said, let's get to know 4+ ways to utilize live chat & Chatbots for lead generation.
4+ Helpful Ways to Utilize Live chat & Chatbot for Lead Generation
Set them up only once and enjoy the unlimited leads without needing anyone to operate them. Sounds great, right? However, it takes a bit more than just setting Chatbots up all over your website. You'll need a strategic plan on how to utilize bots to generate leads.
To help you with that, here are the 4+ ways to utilize Chatbots and live chat programs for lead generation.
1. Help Lost Users to Get Where They Need to Go
Live chat features are most commonly found on the homepage or possibly on every page of the website. They are triggered just after the page is fully loaded or after some delay. The problem here is they are often too quick to pop up while users are finding their way around.
We recommend delaying the live chat popup longer for first-time visitors and let them digest everything that you have to offer. Once they seem lost and don't take any action, that's when the popup can come into play. Offer to help them find anything or get where they need to go through Chatbot support.
2. Engage When Users are About to Leave
Many websites have delayed the live chat features until it looks like the users are about to leave the site. You may have seen exit-intent popups or web forms. But you can go one step further and integrate bot platforms that allow you to set up an exit-intent chat experience for users who are about to leave.
Such exit-intent chat is triggered when the user is either abandoning your website or a cart full of products. It helps recover a lost sale & reduce cart abandonment rate by capturing a lead, which was about to get lost forever. Capturing a lead at this stage makes all the difference as bots bring back the forever lost sale and help convert them in near future.
3. Collect Leads While Sleeping
While you may be sleeping but the internet never sleeps. Your consumers can decide to engage with your website anytime they want from anywhere in the world. Consumers can discover your business during out of hours because they come from a place with another time zone. Thus, you'll need a proper mechanism to capture such kinds of leads.
And as the Chatbots work round the clock, consumers can engage with you 24*7. Most people interact with Chatbots because Chatbots provide basic information they need quickly. Information like office hours, addresses, and others are pre-fed into them and help capture the lead whenever possible. Capturing such leads by generally asking for their emails while you are sleeping can help you reach out to them whenever needed.
4. Capture Leads Who Quit Web Forms
Many websites spend a large amount of time optimizing their web forms to capture leads. However, most consumers quit such forms and go away, making the conversion a distant dream for you. But there's hope. One strategy we recommend here is to capture the leads who quit the web forms using Chatbots.
Most Chatbots might not have such a feature built into them. So, you'll have to look closely and search deeply to find a specific Chatbot that allows you to create custom rules to trigger popups i.e. when users start to fill forms but then try to leave without submitting. Leads at this stage of the funnels are quite important ones because they seem to be ready to go the next step, and capturing them with the help of Chatbots is what you need to convince them to take the next step.
5. Capturing Leads From Your Content Marketing
As per HubSpot's marketing statistics, 89% of content marketers use blogs as a content creation strategy. That should not come as a surprise because blogs play a vital role in content discovery and increasing organic search. Creating and publishing blog content is just the beginning of this larger sphere.
Your blogs need to generate leads and convert consumers in addition to providing the knowledge and value. Value-adding blogs are read to the end, thus, creating an opportunity for you to convert readers into leads. Instead of letting those readers leave after reading the blog till the end, set a bot to trigger a popup to push them down further into the funnel.
Still Not Using Chatbots?
If you still haven't utilized the power AI Chatbots bring with them, now is the perfect time to give it a serious thought. Chatbots not only are used for generating leads, but also utilized for providing customer support, reducing negative actions like bounce rate, cart abandonment, and web form quits.
This article is perfectly crafted in a way that focuses on reducing such negative actions and power the lead generation strategy through live chats and Chatbots. Here, we have presented 4+ unique ways to utilize live chat & Chatbot functionality for capturing quality leads & improve ROI & revenue for your business.
Want to develop or integrate live chat functionality into your website? M-Connect Solutions offers to develop custom web and mobile development solutions. We have an expert team of developers with ironclad proficiency to develop bespoke live chat solutions as per your requirements. Contact us for further discussion on the same and kickstart your project right away.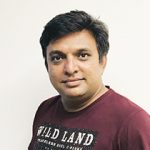 About Hemant Parmar
Hemant Parmar is an eCommerce expert and a keen Magento consultant who specializes in meeting the needs of businesses in the e-commerce space. Years in the eCommerce market make him a perfect choice for sharing his expertise on eCommerce and Magento 2 development. He believes that customers need to be met no matter how challenging it might be.
Read More