Every year starts with new trends that come and go and the lifecycle of these trends is becoming shorter day by day. Well, it's a good thing for sure because the sooner the bogus trends are called out & hype around them dies, the better it is for effective trends to thrive.
Looking back at the previous decade, we can say how marketing has evolved and things are quickly moving these days. Thousands of trends have come and gone; a few stayed back & transformed how businesses generate leads, but most went down the garbage. And in fact, the experts at M-Connect Solutions have developed a knack for identifying trends that will stick around.
And in this article, we will discuss top lead generation trends to watch out for in 2021. No, this does not include the same old crape as Voice Search, AR, AI, chatbots, etc. We are going to look at trends that actually matter for businesses.
With help of these trends what we can do is create lead generation strategies that'll impact positively on your business and improve sales volume as well. So, here're the top lead generation trends to watch out for in 2021 & capture quality leads for your business.
1. Hyper-Personalization
One of the significant trends that's gaining a momentum, then it is personalization, specifically, hyper-personalization for the B2C business model. For customer-centric brands, this can be a relatively new trend. Also, B2B businesses should give serious thought to this strategy with great emphasis on the personalization part.
As per one research by Ascend2, improving customer experience is a topmost priority for 60% & applying data insight to decisions is the second top priority for 51% of marketing professionals to achieve with hyper-personalization strategy.
Hyper-personalization truly provides out of the world personalization experience to the customers as they provide more of their behavioral data. And as the users do so, this results in more relevant product recommendations, style suggestions, upsell & cross-sell recommendations.
2. Account-Based Marketing (ABM)
As per one study by Demand Gen Report, 40% of respondents said they have integrated demand generation & ABM processes to streamline their marketing. The same report also says that 69% have met or exceeded expectations from their account-based marketing efforts.
These statistics convey that account-based marketing is new normal for the B2B type business model. ABM is a genuine growth tactic, not a buzzword that will fade away with time. As per HubSpot, ABM is a growth strategy where sales and marketing teams collaborate to offer a custom or personalized shopping experience for high-value accounts.
ABM resolves several existing pain points with B2B & helps you define your target audience & profiles based on how much value they offer for your business. This will allow you to capture the prospective leads & nurture them to generate expected ROI out of them.
3. Lead Qualification
Along with generating high-quality leads, you also generate leads through your marketing efforts that add no value to your business. Prospects such as not matching the buyer personas, not living in a country your business operate in, don't have authority to make purchases, & others are unwanted with which you might end up.
That's where lead qualification comes in. It is a process of vetting your prospects that deserve to be on your list of quality leads. The important point to note here is the effective lead qualification can be tricky. Manually qualifying all your leads is not going to work & also you can't rely on automated solutions that collect data for making informed decisions.
The best solution could be creating a frictionless signup process for your prospects after which you can push them for more information. This also relies on the prospects giving up their data after sign up so that you can determine if they are worth your time or not.
4. Community Marketing
Community marketing has been around here for quite a few years but brands haven't really utilized the potential it has. Quora, Linked In, Facebook groups are all part of the community marketing but the brand presence is often overshadowed.
Community marketing is a growth strategy focused on bringing customers together on a topic that's aligned with your brand & put customers' needs first in a non-intrusive way. So how do you do that? Well, start with engaging on every comment, share, mention, tweet & retweet about your brand.
For brands, your community always comes first, so work hard to engage with every member of your community keeping the center stage for your brand without pushing your products. Provide your prospects in the community with genuine advice & insights that simply puts your products at the forefront.
5. Sale & Marketing Automation
Earlier in Demand Gen Report's ABM Benchmark Survey Report, aligning sales & marketing efforts is the biggest challenge respondents had with account-based marketing. Other companies with dedicated sales & marketing also face the same challenge.
Aligning your marketing & sales efforts is one of the benefits of account-based marketing but many companies don't address it. This means your marketing will generate leads that won't materialize & the sales team will spend more time trying to close deals.
To bypass all these, first, you'll need customer relationship management (CRM) software with integrated email marketing, sales & marketing automation. This will help align & combine your marketing & sales effort. What CRM will do is automatically add potential leads into relevant lists for your sales team.
Thanks to that, your sales team will only receive leads that have potential & wouldn't waste time on leads that aren't worthwhile & won't convert. The biggest challenge in aligning marketing & sales processes is knowing where one ends and the other starts. Many of your leads may need some nurturing to make them ready to make the purchase. So, your sales team needs to know when they should jump in at the right moment & take over.
6. Featured Snippets to Win SEO Battles
There have been talks about Google killing organic search by placing ads, Google Shopping, Flight search, local listings & other stuff that pushes organic results further down. And featured snippet is another addition where SEO lead generation is won & lost in 2020. As per Moz's research, 23% of the search results include a featured snippet that's a 165% increase since 2016.
The problem with the featured snippet is that there's only one place and everyone's fighting for it. So, the competition is fierce and there's no guarantee you'll sustain the top spot even if you get there. There's also a section below the featured snippet called People also ask consisting of questions people generally ask and opening which shows the snippet for that question.
These questions provide you a list of opportunities you can utilize. Start prioritizing them in terms of search volume, CTRs, & other important KPIs. Now start producing the content that's going to replace the current occupier of the top place with yours & generate leads for your brand.
Summing Up
With the start of 2021, a decade of new trends has started which enables you to step up your game. Today, brands can't coax their way through mobile optimization, UX-friendly designs, loading times, and others. As the users are demanding a positive buying experience, Google is getting serious with its ranking factors. This, in turn, makes it hard for businesses to generate new leads across channels.
This is why we came up with a top lead generation trends brand should watch out for in 2021. These trends will enable you to become the brand you always wanted to be for the coming decades or so.
Looking to set up a new online business? M-Connect Solutions can help. We offer stunning web & mobile application development services. The apt developers at M-Connect Solutions deliver the gilt-edged solutions that exceed all levels of excellence to meet your bespoke needs. Contact us right now to kick start your project with us.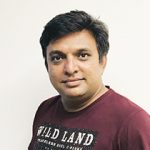 About Hemant Parmar
Hemant Parmar is an eCommerce expert and a keen Magento consultant who specializes in meeting the needs of businesses in the e-commerce space. Years in the eCommerce market make him a perfect choice for sharing his expertise on eCommerce and Magento 2 development. He believes that customers need to be met no matter how challenging it might be.
Read More