Introduction to A/B testing
A/B testing is well known and buzzes generating method in online business world for testing different online marketing strategies to your business. The A/B testing help you to choose best online marketing strategies for you online business. You can perform A/B testing at everything of your website from web page copy to search ads to your emailer.
Well-designed and planned A/B testing has ability to make a huge difference in effectiveness of your marketing efforts and tactics. By narrowing down the most effective element of your promotion , and then combining them , can absolutely going to make your marketing efforts more profitable for your.
How to plan A/B testing?
The 1st thing that you do when you are planning to perform A/B testing is to figure out what you going to test. Are you willing to do an Off-site test and on-site test? And if you are willing to do on-site A/B testing, then you have to think about all sales related things of your website and web page, and then choose out on which element you want to do A/B testing.
If you are willing to perform to do A/B testing for off-site, then you probably going to test either sales email or ads. Testing ads copy to see which copy is sending more converting visitors on your website can help you to focus on your advertising efforts.
Once you able to know which ad is converting as well as possible, then it becomes easier to spend more money on ads. The same thing is also applies for emails. if you sending 2 versions of your emails to your list y keeping in mind which one goes to whom, and then which one is getting more conversion. Then you can send only that version next time.
Once you able to know what you are going to test the make a list of all that elements that you are going to test.
Ex: Suppose you decided to test your CTA (Call to Action), then you might going to test all this:
The location of your CTA
The text you have used for your CTA
Audience choice regarding web page design and look
The color of button and surrounding space
It's a process, and it's very common for multiple A/B testing to carry out prior to making a final decision or final changes.
Make sure that before you starting you're A/B testing you has a clear vision of the result that you are looking for. You should already know what is your baseline result? which is the result you are presently getting?. You want to test option A and B against each other, but at same time you also want to know which one performs better against your present result.
Test needs to be run simultaneously to account for any difference in timing. You can perform test on one variation today and on other tomorrow. Because you can't factor in any element that might got changed between today and tomorrow. Instead, you need to split the traffic seeing your variation at the same time.
A/B testing can also help you to increase your bottom lines:
Exact and accurate A/B testing can make a huge difference in your bottom line. By contorting and gathering a correct data from you're A/B testing, can help you to choose perfect marketing strategies that will work best for your business. When you figure out that the one variation might going to work 2 or 3 times ever 4 times better then another, the idea behind this you would conduct your promotion without testing start to seem little bit ludicrous.
If you perform A/B testing consistently, then it will help you to improve your bottom line substantially. If you already know that what is going to work and what is not going to work and you also have evidence then it become easier to take decision. Just remember one thing perform A/B testing on regular basis, because effectiveness of any element can get changed at any time.
Things that you can test:
You can perform A/B testing at almost everything. You can perform A/B testing on your marketing headlines, images, CTA, design, web page etc. If you able to change it then you also able to test it, but it doesn't mean that you waste you times on testing every small things instead of focusing on major things that going to make a big impact.
Can I test multiple things at same time?
Yes, you can perform A/B testing on multiple things at same time by separating them into group, but it take to much effort and consumes times and very complicated to do.
Ex: suppose you want to test 3 headline of your web page then you can separate those 3 headline into 3 different groups like (A Vs C, A Vs B , B Vs C) and then perform you're A/B testing on it…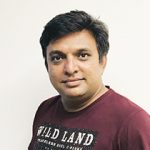 About Hemant Parmar
Hemant Parmar is an eCommerce expert and a keen Magento consultant who specializes in meeting the needs of businesses in the e-commerce space. Years in the eCommerce market make him a perfect choice for sharing his expertise on eCommerce and Magento 2 development. He believes that customers need to be met no matter how challenging it might be.
Read More