SaaS or Software-as-a-Service is a software licensing & delivery model in which software, hosted on cloud platforms, is made available to end-users on a subscription basis over the internet. And as per the 99firms SaaS Statistic, 80% of the businesses have already used one SaaS-based software. And thanks to its immense market & revenue growth, one can be optimistic and don't want to lose out on such an amazing opportunity.
However, it already has a cutthroat competition that'll squash your rise unless you keep up with its stellar benchmarks. And even the software companies with high YOY growth rates have mere chances of surviving the blow of fierce competition. Thus, companies must give it a thought and start only when they have a concrete plan for SaaS-based product development.
SaaS is a swift and volatile industry that has many variables and requires a balanced approach to achieve the milestone. And it can pose a serious challenge even for a seasoned team of developers & programmers. This ultimate guide for SaaS-based product development dives deep into what approach one should take on.
An Ultimate Guide to SaaS-Based Product Development
Let's be honest, developing an excellent SaaS-based product depends on the software development idea, practical methods, hard work, a bit of luck paired with visionary thinking & organization. So, let's see the step-by-step procedure for SaaS-based product development.
1. Double-Check Your Terrific Software Idea:
Everyone thinks their products or software development ideas are terrific. Well, they may be excellent, terrific and all, but is your audience ready for your software? Does the world really need it? If you ask your family and friends, they'll say it's a fantastic idea. But would your target audience say the same?
Who you are building the product for is more important than what you are building. To have more perspective on the same, you can reach out to your prospective customers and ask them what they need out of your products. Make them your R&D team and discuss even the minute details that would help enhance their experience of using your product.
The things listed below must be effectively brainstormed with your team. Doing so will help you identify any weaknesses and opportunities to make your idea more sharp, clear, and concise.
What problems your software intends to solve?
The audience you want to target?
What differentiates you from the rest?
How are your product's features going to make a difference in your audience's lives?
2. Discuss the Basic Requirements:
The common things in SaaS-based software help lay the groundwork for a viable product. This will also clear things like security, privacy, integration, customization as well as scalability.
Back in time, security came into play late in the development stage instead of being the foundational feature. But today, safety & data protection is the major concern of consumers. And thanks to the current and under the pipeline regulations, top-notch security standards will become the absolute must.
Furthermore, discuss ways your SaaS-based software will incorporate the requirements of your customers & clients. Will you be able to integrate them with the existing tools, or would you be able to make a few adjustments for their specific needs? Finally, make sure your software is well-prepared to respond to the increasing number of users' needs perfectly.
3. Come Up with an MVP:
MVP means Minimum Viable Products which refers to a basic product offering core features that provide value to your users with minimal cost on your front. An MVP is for early adopters to test the product and give their honest feedback.
By creating User Personas, Actions required by them to solve the problem, and solutions to their problems will get you close to your MVP. Releasing MVP will help you get insights into features you should include in the final build.
4. Pricing Strategy & Models:
How you price your product initially is going to matter a lot. It's what differentiates you and can make or break your software product. Your software's pricing model will categorize it as per the affordability & usage of customers. Regardless of how terrific your software is, you will fail to grow & gain customers if your pricing model isn't lucrative enough for your targeting audience. It should be based on their needs, habits, & economic conditions.
Here are some of the most common pricing models for SaaS-based products:
Freemium: A free version with basic features that help encourage people to go for the paid version.
Usage-Based Pricing: Users can pay as per their amount of usage.
Flat Rate: A flat rate for the entire line of features included in software paid on a monthly or yearly basis.
Price Per User: A price based on per active user for the entire line of features of the software.
Price Per Feature: Price differs based on the features offered.
The pricing model is something to be worried about if you want to sustain your SaaS-based product long-time. But for the short-time goals, you must select one of the common pricing strategies to sit comfortably into your market.
Offer a free trial for a certain period.
Exclusive and niche brands can go for a premium pricing strategy.
You can introduce promotional prices as the software gains some credibility.
To effectively penetrate into the market, offer the software at low price initially.
Selection of the right software pricing model and strategy depends upon the software itself, target audience, long-term plans, and plenty of other aspects.
5. Taking Care of Technicalities & make a List of Features:
Paying attention to technical aspects of your SaaS-based software will ensure that it does meet the expectations of your target users. Not doing so will directly affect the cost and efforts your team has put into developing the software. Technicalities like platform, programming language, the software required, and other tools for building your dream SaaS product plays an essential role.
If needs, take the help of professionals and consultants who can better guide you in your decision-making and plan for long-term success. They'll also help you list out the set of features and functions your software should offer to your users. Make sure that your features have some uniqueness in them. Also, you can add more features later after getting feedback for your MVP.
6. Define Your Development Budget:
Once you get accustomed to the points listed above, you'll get not a clear but a basic idea of how much you'll need to invest in developing SaaS-based software. Also, you'll have to take into account the time for developing MVP and the final version of your software.
If you don't want to compromise on the budget to target the audience in the mass, see that you have chosen the right audience in the first place. Finally, make sure that your budget supports your goal of solving problems & benefit your target audience.
Final Words:
Developing a SaaS-based software is going to be a long process but will give out sweet fruits if developed, launched, and marketed correctly. For software to be successful, it requires an out-of-the-box idea, practical methods, hard work, a bit of luck paired with visionary thinking & exceptional organization. And this ultimate guide for SaaS-based product development perfectly delves on the same.
Need help to build your SaaS-based Software? M-Connect Solutions, with its rich industry experience, offers to build the most interacting, engaging, fast & snappy cloud-hosted software. Contact us now to kick start your project.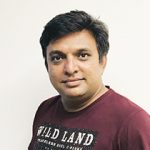 About Hemant Parmar
Hemant Parmar is an eCommerce expert and a keen Magento consultant who specializes in meeting the needs of businesses in the e-commerce space. Years in the eCommerce market make him a perfect choice for sharing his expertise on eCommerce and Magento 2 development. He believes that customers need to be met no matter how challenging it might be.
Read More