An indispensable part of your organization's growth is choosing the tools to comply with your business plan and improve its efficiency by keeping your data streamlined and organized. This factor is the part where ERP and CRM software platforms become relevant to the conversation. Both ERP and CRM help to improve the efficiency and profit margin of the business. Although both have similar aims and functions, their usages are significantly different from each other.
If you are pondering which one to opt for, you have come to the right place. This article will discuss the key characteristic features of both ERP and CRM, their differences and similarities, and their compatibility with types of businesses.
What is CRM?
CRM or Customer Relationship Management denotes a software that controls how a customer interacts with any business.  It records all of the customer information like order history, contact information, store prospect information, manages the sales pipeline, handles all kinds of marketing campaigns, analyses the data and other things related to the customer. The core of CRM is Sales Force Automation (SFA). The main motive of CRM is optimizing the customer experience and consequently securing sales. CRM helps in increasing profits by boosting the volume of sales and improving customer retention. In some CRM systems, sales performance management and sales incentive compensation are included, but usually, they are sold separately due to the complexities involved.
CRM includes activities like account management, customer care, and marketing that occurs after a sale is made. Some CRM systems explore other aspects of the customer relationship like eCommerce. However, even the most expansive of these solutions hardly store data that's relevant to ERP systems.
Benefits of CRM:
The main goal of CRM is to give a central repository to all customer data and track all kinds of interactions with customers. It acquires all the information and uses analytics to make more decisions and take actions accordingly based on the information. The data is used for future campaign planning. Which customers to pursue to increase revenue, the sales teams' performance, how to efficiently and appropriately service customers- these kinds of information are used by CRM. For example, suppose statistics show that the maximum number of customers of a certain business is between 18 and 24. In that case, CRM will use that information to attract the youth population with relevant techniques.
CRM basically helps to keep track of all the ongoing sales efforts and oversee their completion.
What is ERP?
ERP, which stands for Enterprise Resource Planning, aims to centralize all the business data and facilitate communication between different departments. Since it keeps the data consolidated and updated, it avoids or reduces any communication lag. As a result, production, distribution, and other related processes are speeded up.
Also read: Erp – A Perfect Strategy For Business Growth
ERP evolved from MRP (Material Requirements Planning), which helped manufacturers understand and manage the resources required by the business to operate successfully. ERP provides a shared database to all parts of the company. These are modular systems. When you opt for ERP, you're purchasing several pieces of software. However, customarily, ERP software focuses on human resources, manufacturing, distribution, supply chain operations, and accounting.
ERP systems manage almost all parts of the business, like inventory management, employee payrolls, accounting. This all-encompassing feature helps ERP to simplify workflow complexities in bigger firms.
Benefits of ERP:
By centralizing all data, streamlining and organizing them, and finally automating the process, ERPs facilitate smooth communication among different departments. If it is a large business, little inefficiencies may arise because of its enormous size. These small inefficiencies eventually form a big brunt on the company's shoulders. ERP helps such companies to cut back on the cost and remove such inefficiencies. Such a performance boost enhances the profits of the business.
For example, the Human Resource department might have a certain type of data in a spreadsheet. The Sales department probably has made another spreadsheet. In the course of work, it becomes a very hectic and redundant job to merge the spreadsheets to further the departments' further functioning. ERP comes to the scene here and fuels communications between departments, and makes all the data reachable to all the departments. This feature helps the business make data-backed decisions faster, further improving efficiency and providing new growth opportunities.
Difference between ERP and CRM:
While you wonder whether ERP is better for your business or CRM, we will discuss the differences between the two software which might guide you to make your decision. Both ERP and CRM share the same motive to increase profit, but their approach differs.
The fundamental difference between ERP and CRM is that while ERP is primarily concerned about the finance department and deals with financial data, CRM deals with customer data that the sales department and customer service department use.
While people often call CRM the front office and ERP the back office.
ERP opts for cutting down costs because of inefficiency, thereby increasing profit. Their centralized data helps in making faster and more accurate decisions. On the other hand, CRM aims to increase the company's profit by boosting its sales volume. To ensure optimal sales figures, CRM manages marketing campaigns, customer/prospect information, sales funnel, etc.
Some ERPs include some CRM software sometimes, but it's not applicable vice versa.
ERP vs. CRM: Which is better?
Before deciding which software platform is the best for your business, it is important to understand that both the software pieces are beneficial to an entity but in different ways. While one of the tools is more important to your business than the other, it should never be an easy choice. Depending upon the situation your business is in, one needs to make a good choice.
The few questions you should have answers to before deciding: How large is your business? How much growth are you expecting? Do you want the optimization of your business or its development? What is the level of competition in the market? Is your business dependent on inter-departmental collaborations for its growth? Products or services – which one interests you the most?
Once you answer all these questions, it should be easier for you to make a choice.
Generally, small-sized businesses find CRM more beneficial because it helps them focus on their customer base. If the is a restraint in the budget, an ERP might work too. As much as a small business profit from the CRM system, a larger one does a lot more than that. CRM software is even more useful when there is a large database of customers. Any business aiming for customer retention while trying to enhance growth and customer satisfaction requires CRM software.
According to Nucleus Research, companies that invest in CRM software tend to receive a return of $8.71 per dollar invested.
Any business that has already set its ground and aims to optimize its functions may opt for ERP. It is a very handy tool that simplifies processes and fuels proper communication among departments for effective functioning. It helps to increase the margins on the current customer base rather than focusing on attracting new customers.
Conclusion:
The differences between ERP and CRM are clear-cut, but the choice between the two is complicated. This is because their applications can be merged in the same solution. The differences play a large role in the trajectory of the company. However, the differences between ERP and CRM become clearer once you start considering each tool's purpose, rather than the way they will be presented to the user.
A wrong choice from your end is capable of stunting your business's growth and adding some unwanted complications that will slow your business down. As a leader, you have to consider every minute detail about both of these platforms and see which one fits your goal. To figure out which system is suitable for your business, the primary question that you need to ask yourself is whether you're making a physical product and if you need to cut your costs or boost your sales.
However, it is not mandatory to limit yourself to only one of these options. Most of the world's top organizations often use both platforms to achieve their goals. Many businesses like to improve both of the metrics. At this juncture, the choice comes down to scale the amount of data and information that your business needs to succeed in the market. The more data you have and need to process, the more you need to process the path for you and translate your need for these tools. ERP and CRM are both useful but are used in different scenarios. Ideally, most organizations prefer to use both. However, small-sized businesses do not have the luxury to be able to use both tools. While ERPs are for large, enterprise-level corporations, CRMs are more friendly for small businesses. Thus, your choice becomes easier, depending on the size of your business.
Find the right partners for your different applications and software development needs!
The apt guidance related to the choice of software and application for your business can take your venture a long way.  Get such unparalleled assistance with M-Connect Solutions. Contact us now!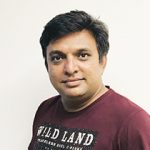 About Hemant Parmar
Hemant Parmar is an eCommerce expert and a keen Magento consultant who specializes in meeting the needs of businesses in the e-commerce space. Years in the eCommerce market make him a perfect choice for sharing his expertise on eCommerce and Magento 2 development. He believes that customers need to be met no matter how challenging it might be.
Read More