We live in a world where mobile apps are dominating our daily lives.  Mobile apps are the reason that industries are creating smart devices to improve peoples' routine life. Technology has changed the way how all the devices interact with each other. Many technologies have been introduced in the past years, such as Augmented and virtual reality, the internet of things (IoT), and more.
It is said that due to the increase in mobile usage, IoT technology has gained popularity throughout the years. Research shows that the number of IoT devices worldwide will reach up to 25.4 billion in 2030.  In this article, we'll learn what IoT is and how it impacts mobile app development.
What is an IoT?
IoT refers to the devices that are connected via the internet, which gathers and shares the data across other devices. IoT connects your smart devices such as mobile phones and tablets to television, refrigerator, smartwatch, car, microwaves, light bulbs, and many more. In order to control all the smart devices, you need to download the IoT application.
IoT-enabled devices can relate to sensor-enabled buildings and automobiles, and healthcare devices. The built-in sensors are the objects that are allotted with an IP address while having the capability to collect and transfer information over the network. IoT technology minimalizes human interaction and manual assistance.
Also read: New App Development Ideas That Our World Needs Right Now
Mobile is a platform that can easily transfer data, and with the IoT mobile apps, IoT devices can be managed and observed methodically. In-order to stay above the market competition, mobile app developers are investing in IoT-enabled mobile applications.
Let's see what impact IoT has on mobile app development.
Impact of IoT in mobile app development:
Virtual assistance apps have proven a boon for humans, as it eases their daily work and reminds them of their pending tasks. That's why mobile app developers are more interested in IoT-enabled applications. Let's simplify numerous ways which will explain how IoT is transforming the future of mobile application development.
A unique design is the only way to stand out in the tough market competition. There are few things to keep in mind to design an app, such as costing and various ways of designing. Therefore, many developers are experimenting with a hybrid application using enhanced UI/UX and advance coding abilities, allowing users to interact via multiple devices.
Users have to input their personal data into the IoT-enabled devices, increasing the chances of being hacked. Most people store sensitive data such as banking details and more into mobile devices, which are always at great risk, therefore users are always hesitant to store their data.
It is important to build an IoT application that is secure, safe and users' privacy is intact. App developers have to build the app by following the appropriate privacy protocols. Most businesses don't look for cyber-attacks, that's why security has always been a vital aspect of mobile app development.  IoT can be helpful in improving the protection by imposing a physical device as a first entry point, saving the fundamental source, and alerting the users about the risk.
From the beginning, IoT has received various opportunities and potentials. It has provided a centralized platform to connect and handle all the smart devices. This had made devices easily manageable for both users and developers.
For example: beacon technology. Beacon technology connects all the applications with just one device. For this, users have to install one battery-operated device into their home/shop, etc., and it will automatically send notifications to users about their chores.
With IoT, mobile apps are created with various features in a single app. For example, IoT enabled mobile app lets you book a taxi, track your order, and control your shower temperature. With IoT apps, users have to set their preferences at the beginning, and then with the previously gathered data, the app automatically updates its data and works accordingly.
IoT device allows one application to perform multiple tasks and it also reduces the developers' efforts. With the spared time, developers can easily focus on multiple projects. Thus, it has made life easier for both developers and users.
For everything that is exclusive, it demands thorough knowledge and special skills. Just like that, IoT also requires certain specialization. With the rising competition, if you have a unique idea, your team needs to develop an app that will help you stand out in the market and attract customers. Developers need to keep updated about all the new trends in the market and improve their skills accordingly.
As a business, everybody's prime focus is creating an app with all the latest features at a minimal cost. As IoT enables apps are cost-effective, developers can continue adding new features and make the app more interactive with users without having to worry about an additional cost.
Also read: What entities must know before Outsourcing Mobile App Development?
With the increasing popularity of mobile phones, every business is trying to create a unique mobile app. Most businesses are opting for IoT into their workspace for simplifying the work process by interconnecting all the devices. With IoT apps, the business can get high productivity, reduce downtime, conduct regular maintenance, and replace it if any problem occurs, leading to better results.
Businesses can easily do inventory checks and observer the functionality of their machines with IoT apps. Some industries are trying out IoT apps with wearable technology, allowing them to easily monitor the activities of their employees and equipment.
IoT is making the life of the user convenient as well as for the developers. With the help of IoT, developers can easily make a single app with multiple features. Now, developers can build the app with minimal effort as they can make devices automate and cooperative with the help of multiple tasks. You can create a user-friendly and exclusive application with the help of IoT, which will help you enhance your business.
Conclusion
The integration of IoT with mobile app development has reshaped the business industry and has bought an unimaginable change. IoT was introduced when the users were looking for advanced technology to enhance their convenience and make their lives easy.  Having all the points considered, it is safe to say that IoT has made life more convenient for both users and developers.
Since the popularity of mobile phones and mobile applications is increasing, enterprises need to invest in IoT-enabled mobile app development to enhance their business.
If you are looking for a mobile app developer, M-connect solutions can help you develop a highly engaging app for android and iOS devices. Contact us to kick start your project right away.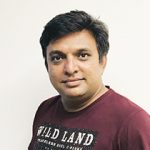 About Hemant Parmar
Hemant Parmar is an eCommerce expert and a keen Magento consultant who specializes in meeting the needs of businesses in the e-commerce space. Years in the eCommerce market make him a perfect choice for sharing his expertise on eCommerce and Magento 2 development. He believes that customers need to be met no matter how challenging it might be.
Read More