The minimalistic web design approach is known for creating superficial art with fewer things. It is a quite popular modern approach designers follow for crafting stunning websites by experimenting with colors, transitions, navigation, broken composition, or removing unnecessary elements completely.
The digital world has started to adopt this trend of minimalistic design and the days of cluttered web design have long gone now. This is attributed to the fact that overcrowded web pages don't seem to attract customers visually.
Google was the first company to adopt a minimalistic design approach back in 1990. And since then, the trend of this approach has risen exponentially. Having less things on-screen helps end-users focus on important aspects of your website. Another benefit of it is the significantly reduced page load time. Here's how to get started with minimalistic web design.
Effective Practices to Follow for a Minimalistic Web Design
Having a minimalistic design does not mean that you have to keep your website blank. Minimalistic design is a concept with some basic rules and requires creative thinking to be effective. And here're some of the effective practices to follow for a minimalistic web design.
1. Remove Unnecessary Elements
There is no room for unnecessary or additional elements in the minimalistic design approach. Here, every element you put on your website needs justification. Each element should have a purpose that needs to be perfectly served.
Thanks to the basic, simple & yet effective design approach, each element on the website stands out. And due to that, communication becomes brief & to the point. To make it more elusive, you can't put unnecessary words or use stock images on your website so that you abide by the minimalistic approach.
Everything you use should be short and sweet. Moreover, the less information and design components create less confusion in the minds of users, which can create a lapse in UI.
2. Be Choosy While Picking Images
Picking up & putting on the wrong images on your website can ruin the integrity of your website. As long as you know where to put them, images can perfectly serve the purpose of communicating a thousand words and be a focal point of your website.
For instance, high-quality & visually appealing background images can instantly capture the attention of users while still maintaining the focus on the main activity of the page. Images evoke emotions and could be a factor affecting people emotionally while making decisions.
Whatever images you pick, remember that images must create a visual balance, be it symmetrical or asymmetrical. Also, pick images that follow the minimalistic principles and aren't loaded with too much information.
3. Go for Neat & Readable Typography
Typography is often the focal point of your website so you must select typography with utmost care. If possible, then opt for neat & legible typography, and for minimalistic design, limit the usage of fonts not more than two times.
If there's a need for a third font, consider playing around with the size and weight of the selected fonts. The use of text blocks is another great way for visitors to better understand & consume the content of your website.
Another minimalistic trend that's been in use lately is oversized typography. This design approach is also helpful in drawing the attention of users and convey the intended message to them successfully.
4. Limit The number of Colors & Not the Color Selection
Be consistent with your color scheme throughout your website. If you think that a monochromatic color scheme is more suitable for your website, then go for it. It is not true that the monochromatic color scheme is be-all & end-all of the minimalistic design approach.
Use bold & bright colors all you want for making your website look all glamourous that too without sacrificing on the minimalism. The only thing you have to ensure here is to limit your colors and use a maximum of three colors possibly.
Another thing to take care of is to use high contrast colors between saturated background & bright accent will do the trick just fine. Contrasting bright colors & eye-catchy accents are known to draw the attention of users at the right places.
5. Use Whitespaces Smartly
Once all the unnecessary stuff leaves your website, there's just white empty space or negative space that takes over the screen. It is the primary design element for minimalistic design. This white empty space can make or break your minimalistic web design. Additionally, this white space is also known as the backbone of all minimalistic designs.
This space does not necessarily have to be white, however, it has to be empty though. And even though it is empty, it has many functions to complete. It helps prevent disrupting your messages and helps visitors and customers get the exact information at the right places on their screens.
Keep the following things in mind while you create empty space:
Importance of Content
Simplicity of Messaging
Hierarchy of Elements
Performance on Various Devices
6. Simplifying the Navigation
Simple yet effective navigation of your websites plays a crucial role in the efficient minimalistic design. It enables users to find whatever they want or are looking for with ease. Navigation acts as a guide for visitors by giving your website a structure & organization while serving.
There's a way to make your website easily navigable and it is to put things where your users expect them to be. Make sure that your visitors are able to navigate your website and reach their destination within two to three clicks. The main page i.e., the home page of your website should just be one click away from any page of your website. There are several ways to present navigational schemas: from sidebars to header menus and in the footer too.
7. Focus on Your Page Layouts
Page layouts like grid layout can effectively organize the content on your website with a minimalistic design approach. It is very popular among minimalistic designers as grid layouts provide the perfect structure for the website. The grid layout makes the content placement easy and the best thing about it is you don't have to worry about the look of that content on different resolutions.
The grid page layout is similar to a linear page that shows the result without any visual elements. It also plays a crucial role in designing responsive websites with minimalistic elements. However, creating a grid layout can be a bit tricky and requires the hand of experts. And M-Connect Solutions is one such team of experts with apt designers onboard. Hand over your minimalistic grid layout designs to our minimalistic designers to get it right.
Wrapping Up:
Designing your website in a minimalistic way is not as easy as it sounds. But by following effective practices, you can make your website look more stylish and offer an imperative user experience to your customers. With a minimalistic approach, even first-time visitors can make themselves familiar with your website and find whatever they need easily.
M-Connect Solutions has a team of proficient designers with ironclad skills. We offer to design your website by abiding by the minimalistic approach that can bolster the growth of your business and boost the sales figures exponentially. Contact us now to kick start your minimalistic designing project with us.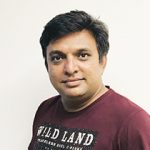 About Hemant Parmar
Hemant Parmar is an eCommerce expert and a keen Magento consultant who specializes in meeting the needs of businesses in the e-commerce space. Years in the eCommerce market make him a perfect choice for sharing his expertise on eCommerce and Magento 2 development. He believes that customers need to be met no matter how challenging it might be.
Read More