SEO short for Search Engine Optimization is a vital aspect of digital marketing. It has the potential to open the gates and flood your websites with visitor traffic. Through SEO, you can improve the quality and quantity of traffic coming to your website from search engines. Not only it can better your organic reach through search engines but it can also boost your revenue by multifold.
Most marketers & Ecommerce Business Consultants on the internet are trying to get ahead by using positive SEO tactics. But few like to get dirty & use negative SEO to pull down their competitors to ahead in the game. Ranking first on the first page of the SERPs is like a cake and everyone wants a piece of that. However, the rise in the competition has made the world a meaner place allowing negative SEO to rise.
Now the question is how do you save yourself if your competitor uses it against you? Well, worry not, because, in this post, we are going to share how to prevent negative SEO attacks on your websites. To better understand the downside of negative SEO, first, we need to understand what negative SEO is?
What is Negative SEO?
Negative SEO works to disturb the SEO strategies put together to make your website rank. Negative SEO tactics negatively impact the rankings of a website targeted by other industry players.  In easy words, it is the opposite of positive SEO and works to demote the competitors' websites rather than promoting them.
There are multiple ways to ruin the SEO rankings of a website such as hacking, add spam links to their content, altering their backlinks, posting fake reviews, creating fake social media handles, create unethical & inappropriate redirection, etc. are some of the many ways.
To make things clear, negative SEO is a practice used by competitors to take down those who are doing well on search engine rankings. People who can't get ahead with positive SEO, take their refuse in negative SEO.
Google has promised to safeguard SERPs & URLs from the effects of negative SEO. However, detecting and preventing such attacks on your website is solely your job. So, let's get into how you can detect and prevent negative SEO attacks against your website.
How You Can Detect Negative SEO attacks?
The following are signs meant to alert you that something is wrong and fishy about your website.
1. Traffic Drops Suddenly
A sudden drop in your day-to-day traffic is the first sign that indicates something is wrong. If you haven't applied any upgrades or modified your website, negative SEO is one of the likely possibilities.
Also read: List of Useful Website Analytics Tools
Due to the impact of a negative SEO attack, you'll notice irregularities in your traffic. To be sure, one should always analyze the traffic data from Analytics. It may help understand the root cause of the issue.
2. Check Console for Unnatural Links Alert
Google Search Console will send you an alert if your website is hacked or has unnatural links or spammy content. If you see such an alert from Google, it simply means that someone is trying to or has used negative SEO tactics on your website.
3. Page Ranking Drops for a Keyword
It can be easily understood that it is negative SEO behind the sudden drop of ranking for particular keywords that you used to rank high for. For other keywords, the ranking may be fine. To track sudden changes & negative SEO attacks, you must use an effective SEO and keyword tracking tool.
4. Startling Increase in Backlinks
One important aspect that every marketer should do is take follow-up on the number of backlinks and their quality regularly. If you find a startling increase in the number of your backlinks or their quality is being affected, then it may be negative SEO. To prevent such SEO attacks, you need a reliable and robust backlink monitoring tool.
5. Content Scrapping
One fine day you wake and find that your website content is scrapped and shows up on one or multiple websites. What this will do is make your content look plagiarized and not unique in front of search engines and we all know the after-effects of that. This is the easiest way to negatively impact your website's SEO.
How to Prevent Negative SEO Attacks?
Let's say you know how to detect a negative SEO attack but is there a way to prevent such attacks? The following are the few ways you can use to prevent negative SEO attacks.
1. Enable Email Alerts from Webmaster Tool
Whenever Google penalizes your website for not being on par with their standards, they inform you via email. Also, it will send you alerts for when a website experiences a hacking attempt, several web pages are not indexed or for any other issue.
To keep track of all the alerts, you must integrate your website with Google Webmaster Tool. Once you are connected, enable all the email alerts & notifications by going into "Webmaster Tools Preferences."
2. Track Your Backlinks
In order to prevent spammer to succeed from impacting your website with negative SEO, you must keep track of your backlinks. What they will do is build low-quality links or create redirects to negatively affect your SEO.
Use web analytic tools to monitor your backlinks from time-to-time to check if someone is creating backlinks for your website. There are even tools available that let you know everything about your backlinks by sending an email. For instance, when you gain a new backlink or lose one, you'll receive an update to efficiently track your backlinks.
3. Protect Your Best Backlinks
More often than not, what spammers would do is try to contact the website owners posing as you and ask them to remove the backlink. The owner would do so considering that it is you who is asking. Now, there are two things that you can do to prevent this from happening.
The first thing you should do is to communicate with the website owners with a domain email address. Don't use Gmail or any other mailing service's email address. This way you will build authority and also it makes easy for website owners to identify who is contacting them.
The second thing you can do is mark some of the best backlinks so when they are lost, you get the direct alert of that from your web analytic tool itself. Thus, you can contact the website owners and ask them directly why they removed your backlink.
4. Check for Content Duplication
As mentioned, content scrapping & duplication is the most common and easy method to negatively affect your website. Copyscape.com is a great tool to find if your website content exists anywhere on the internet or not. Using this tool, you can find the content that exists on your website and is published without your permission on other places. Knowing so will help you take the right step further.
Google's Panda update is designed to fight content duplication on the web. So, when it finds multiple copies of a single content across the internet, it will only pick one copy to rank. In most cases, Google can detect the source of the content unless it indexes the duplicated content first and only then indexes the original one.
5. Enhance the Security
Hacking and malware attacks to damage your brand's reputation can also impact negatively your SEO. What hackers here do is inject malware, add duplicate content, replace the links, or add spammy links, edit the robot.txt file to create crawling issues.
The only way out is to audit your website regularly to find any irregularities. You can also use any tools that can continuously check your website for such SEO attacks. Doing so on a daily basis can help you find subtle changes that otherwise would go unnoticed.
Wrap Up
Apart from all these, you must always keep a weather eye on the horizon to make sure that your website works perfectly fine. Even though it may look fine because our eyes are not meant to find subtle changes that hackers successfully have implanted in your website. Furthermore, you must also keep tabs on social media handles with your brand name in them. Those accounts are generally created to damage your brand image.
Need help to keep your website all healthy and fine? Lets M-Connect Solutions Team helps you to save your online business from the impacts of negative SEO.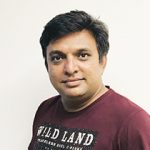 About Hemant Parmar
Hemant Parmar is an eCommerce expert and a keen Magento consultant who specializes in meeting the needs of businesses in the e-commerce space. Years in the eCommerce market make him a perfect choice for sharing his expertise on eCommerce and Magento 2 development. He believes that customers need to be met no matter how challenging it might be.
Read More