ERP short for Enterprise Resource Planning has transformed organizations around the globe and how they manage & operate their business. And this alone is enough reason why you should invest in an ERP for your business. However, there are many more reasons and justification to use a system that can better manage business processes in a real-time and integrated manner.
To understand it better, we first need to understand what an ERP system is.
What is ERP System?
As per Oracle's definition, ERP is computer software that businesses can use for managing their day-to-day business activities such as project management, risk management & compliance, accounting, procurement, supply chain management, enterprise performance management, etc. An ERP system is needed to plan the future budgets and helps report the financial results of an organization.
ERP can tie a multitude of processes of a business together and make data flow among them in a flexible manner. It collects an organization's shared data from multiple sources and eliminates data duplication to provide more data accuracy and integrity with only a single source of truth.
Today, ERP systems have become so much vital for managing businesses of varying sizes in all sectors. For all those, ERP is just like oxygen & water for their business that keeps it going.
Reasons Why You Should Invest in an ERP for Your Business
Investing in an ERP system is investing in your company's efficiency, operations, intelligence, and productivity. All these benefits of an ERP can empower your enterprise to become more competitive and help position it to meet the needs of customers.
To convince you more, here're a few reasons why you should invest in an ERP for your business.
1. Streamlining the Business Management
Many things are involved to keep your business alive and functioning. Be it human resources, finances, manufacturing & supply chain management, tracking inventory, quality control, purchasing, sales, and many more day-to-day things that you need to consider to keep your business' pace stable.
Now what ERP system will do is streamline all these aspects of your business in one reliable program. It will connect & integrate all areas of your business to allow different departments to get fast, precise, and updated information.
Another benefit of integrating all the business processes and data into an ERP system is eliminating duplicate information. Also, it helps to improve efficiency, automate many processes, and cut down many redundant tasks & their inclination for error.
2. Improved Productivity & Accounting
Keeping tabs on your accounts and finances is vital for your business' success while it's in the growth phase. This is easier said than done especially when your business is going through an exponential growth phase. And increasingly it becomes hard to manage complex transactions without having a centralized system for them.
As per one report by Smartsheet, 40% of the employees do repetitive tasks for a whole quarter of the week. For most employees, data entry is a tedious job and ERP systems can help automate those boring tasks. It will improve the management of complex transactions and will eliminate the need to do tedious data entry work repetitively.
Integrating ERP for process automation will help save a lot more time and improve the productivity of your employees. With everything being centralized, your operational data has more chances of being visible.
3. Real-time Information
Customers have become accustomed to real-time responses. They expect businesses to be more flexible and responsive, which is a hard thing for businesses to fulfill unless they have the latest information wherever and whenever they might need it.
Your business needs to stay on top of other businesses and competitors, make informed decisions, forecast accurately and plan many other things. And ERP systems are a way for businesses to do so from one single place. They provide real-time data about your business and help stay active to do all planned activities.
4. Better Analytics
The ERP Systems provide you a centralized database, which records all the input data and mold them in a way to provide amazing business intelligence. The centralized database of an ERP can also improve the business analytic and reporting capability. Moreover, generating reports is so much easier and tasks that needed several days could only take minutes to research with ERP integration.
With a customizable dashboard, your department heads can see any information or report they need instantly just by logging in. With just a single click, you can access a wealth of information from income statements to expense sheets. Based on these data, you can better your decision-making process by availing yourself of better insightful data.
ERP systems will end your reliance on someone for providing such analytical reports. Besides that, you can set a restriction on who can access and view sensitive reports and only allow authorized persons to do so.
5. Scaling Ability
ERP systems are pivotal when you are ready to expand your business. You can roll out anything and everything into your existing ERP system from adding new departments, workflows, processes, to bringing new clients on board. A good investment in ERP ensures that your business's future is secured.
No matter the size, ERP is important for all businesses be it a food chain, restaurants, aviation industry, or jewelry stores. Thus, when they need to scale, they need more insightful data and ERP is the perfect place to get that data you need for scaling your business.
6. Savings & Software Standardization
Yes, you may have to invest a large bit into implanting the ERP, which many businesses may think is an expense than savings. However, it's not true. ERP can give you great ROI. First, it binds various fragmented processes into an understandable & centralized system. This will help you get the desired information more precisely from one single system rather than from various systems.
Moreover, data retrieval is much easier in a centralized ERP system and provides great security features as well. Also, you don't need to train your staff to use various systems, which will save fortunes spent training your staff. What's more, is that it will save your logistics effort. All these make ERP worth investing in.
7. Helps to Keep Customers Happy
The satisfaction level of customers with your business is more important today than ever. They look out for many things to judge a business. Thus, keeping them happy is your only job here. And best way to make customers feel happy & satisfied is to provide customer-centric services. Most of your ERP systems come integrated with CRM tools.
CRM is a Customer Relationship Management tool. It has access to many of your business functions and processes that can provide you with the necessary insights and data on your customers. Information like order history, billing info, and others can give you a better understanding of your customers and allow you to formulate a strategy that keeps customer satisfaction on top.
Summing Up
Implementing ERP for all business types and sizes has become necessary as we progress into the technologically advanced world. Businesses need to take timely and accurate decisions to boost their efficiency. Considering its huge implementation cost, many companies don't think ERP is a good saving option for their business. However, the benefits of an ERP system can far outweigh the implementation cost. By implementing it in the right way, you'll hopefully save a lot of money wasted in miscommunication and increase the ROI for your business as well. With this, we conclude the article, reasons why you should invest in an ERP for your business.
Need help in implementing an ERP system into your online business? M-Connect Solutions has a perfectly abled team of developers that can help you with integrating a centralized ERP system into your eCommerce business. Contact us now to kickstart your project right away.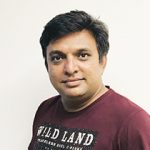 About Hemant Parmar
Hemant Parmar is an eCommerce expert and a keen Magento consultant who specializes in meeting the needs of businesses in the e-commerce space. Years in the eCommerce market make him a perfect choice for sharing his expertise on eCommerce and Magento 2 development. He believes that customers need to be met no matter how challenging it might be.
Read More