First and foremost, it becomes essential to understand what a mobile website is.
Over the past decade, usage of the web on the mobiles has increased rapidly and it is this luxury that has made the business owners also sit up and realize that they cannot easily ignore or neglect this particular segment that has a lot of potential to bring them good returns on investment.  The change could be seen in the number of uses who have replaced their PCs with their mobiles and smartphone and are using the latter for doing their work related activities too and staying connected with people too.
So, mobile websites are those that are optimized for appearing on the smartphone or the popular mobile phones and convey the message that needs to be conveyed to the user.  And as business owners wish to be accessible to their customers at all times, they walk that extra mile to get their website optimized for the mobiles too.
It is high time that the business owners realize that sales cannot be increased with the help of mobile apps alone.  They can have a far better reach when they have a mobile website for their business which is more accessible to all people and not only those who have the smartphones like Android / iPhone / Blackberry.  A research result revealed by Morgan Stanley stated that it is the mobile search that is going to dominate the laptop and desktop searches within another 4-5 years time span.
It is a fact that most of the searches done on the internet are only for local intent and the people are looking for a service or a product that they could buy with either cash or card.  And out of this population, a major percentage of them carry out their local searches through their mobile device.  Therefore, one has to realize that the mobile optimized websites are the ones that will bring in more traffic and sales to a business and will not lose out on any clientele as they are always accessible through their convenient smartphones.
Here are the top reasons why as to one should definitely consider a mobile website for their business:
As the number of people accessing the internet through their mobile phones has taken a steep rise it becomes imperative that one makes a foray into having mobile commerce websites too so that there is increased exposure for the business as well as the customers. More sales can materialize this way.
It gives you a wonderful opportunity to compete with your competitors too. You can establish yourself well with the mobile customers and enjoy the response as this channel is a fast growing one.
Having a mobile commerce site has become highly essential as majority of the internet users have started using the net through their mobiles. And this is estimated to touch peaks in the coming few years.
Smartphones are a must have for the affluent and the elite. So, when your business is mobile optimized, there is every chance that you can entice this set of clientele towards your services.
People are slowly forgetting the word patience and they cannot wait to buy a particular product till they have reached home and placed an order for the same through their desktop. They accomplish this with the help of their mobile device and as a result the businesses can enjoy extra and increased sales too.
Smartphones like the iPhones, Androids, Samsung Galaxy and others have made mobile web highly accessible and usable to all consumers and hence they have started using the platform to buy goods and services too.
While majority of the online retail stores do have a high potential to accomplish businesses on mobiles, there are some exclusive ones that are just well-suited to the mobiles alone and people would need these services while they are out and about. Car rentals websites are just a perfect example for this.
When we have discussed the top reasons as to why one should have a mobile website here is a small recapitulation of the advantages one could have if they really had one for their business.
Increased Accessibility. With almost every individual having a smartphone in hand, accessibility to the web has increased and likewise to the businesses on the web too has increased.
Increased Traffic. A mobile website would definitely be able to draw more traffic to one's website. The internet platform is accessed through the desktops and laptops and now it is predominantly accessed through the smartphones. So, there is an increase in the number of people accessing the internet for accomplishing a myriad range of things and having a mobile website will only add to the benefit of the website's business.
Simplicity and Engagement. With no frills attached to the mobile website, it becomes absolutely easy for the business owner to engage the mobile user by providing specific details and features too and facilitate easier ways in which they can touch base with you. And the GPS facility and the location awareness technology on the smart phones will be helpful in attracting more number of localities.
Emphatic Online Presence. You have established your online business on the internet but it will become more emphatic when your website is optimized for the mobiles too. As the mobile technologies will make advancement, having mobile websites will become extremely vital for every business model in order to establish your brand and business too.
Mobile user experience is undergoing development as well as change and probably this will be the predominant way in which the entire world will function in order to procure the items, services and products that people want from the various online business enterprises.  As mobiles are occupying a dominant chunk of web browsing globally, technology will develop even further and new standards are bound to emerge and it calls for the people as well as business owners to keep abreast of the world of the ever-changing technology.
If you want to design and development of mobile CMS / Mobile B2B Website / mCommerce then please contact us.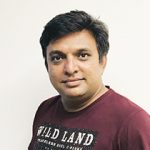 About Hemant Parmar
Hemant Parmar is an eCommerce expert and a keen Magento consultant who specializes in meeting the needs of businesses in the e-commerce space. Years in the eCommerce market make him a perfect choice for sharing his expertise on eCommerce and Magento 2 development. He believes that customers need to be met no matter how challenging it might be.
Read More