Social media has become a necessary part of our life. Many businesses survive only through the use of social media. While it offers people the convenience to connect with others, it has gained a strong position due to the simple and interactive interfaces. Many still don't know what social media is, the importance of social media, and what benefits they offer.
And with this article, we are going to explore why social media development gained such importance. But first, let's understand what social media is.
What is Social Media?
Social media are web platforms or applications for users to interact, share content, follow people, and do such other things quickly, efficiently, and in real-time. They are a digital tool for people to use to create & share content, interact with others, and allow them to follow others as well.
Facebook, Instagram, Twitter, YouTube, Snapchat, Pinterest, LinkedIn, etc. are a few examples of social media platforms. Each platform offers different features and has different functionalities for users. They are basically a communication tool users can access from their desktops and mobile devices like smartphones or tablets. It has transformed the lives of people and businesses.
How Social Media Works?
As we said, there are so many social media platforms, websites, and apps each offering different kinds of functions. For any user that wants to use social media, they first have to sign up with their name and other necessary details such as email & mobile number. Once the profile is created, users can start to create & post content of their choice.
For example, users of Instagram, Facebook, and Pinterest can take photos and videos and share them. But Twitter is often used for sharing small descriptive texts. Most social media platform of modern-day has support for sharing images and videos. In addition to that, social networks offer users to find their friends and family and add them as a friend or follow them.
Some social platform has a feature that provides an option to subscribe to the profile of celebrities to get their post updates regularly. These platforms offer walls, timelines, or feeds which users can scroll down to see other content as well. The contents of social media are often personalized by their algorithms to appear in the feeds.
Types of Social Media Platforms:
Social media platforms are divided according to their use and the service they offer. Not all social media platforms are created equal and each serves a distinct purpose. And they all can be categorized as below.
Social networks pose a specialty in connecting people and allowing them to share their thoughts, contents, and ideas to people with similar interests. Facebook, LinkedIn, or Twitter can be categorized as social networks. The primary purpose of these kinds of social networks is pretty straightforward and it's to allow users to connect with others.
Media networks like Instagram, Pinterest, YouTube, and others are specialized in creating, sharing, and distributing the media like videos and images. For instance, users on YouTube will upload videos that others can like or dislike according to their taste. Also, they have the option to subscribe to their channel on YouTube to get regular updates about their content uploads.
Social Blogging Networks:
Social blogging networks allow users to post content in a long written form. Platforms like Medium and Tumblr have emerged as a social blogging platform to let their social users post informative blogs and articles. They help reach online business to a broader audience beyond just your readers.
Reddit and Quora are discussion forums that let users to discuss anything in detail and also ask for suggestions. These kinds of networks are ideal for posts with in-depth discussion among its users. Other users of the network can leave detailed responses in comments which helps the conversation to grow organically.
The review social media networks help users to post their reviews of things, places, and others. Yelp and TripAdvisor are review networks. They let their users to post reviews of products and services and allowing others to interact with those reviewers as well.
Importance of Social Media Development:
As per one survey by Pew Research Center, YouTube is the most widely used social platform in the US accounting for 73% followed by Facebook with 68%. Instagram, Pinterest, LinkedIn, and Twitter have a market share of 35%, 29%, 25%, and 24% respectively. This only suggests the potential social media holds and its ability to reach a large audience is a huge advantage to consider social media development for your business.
Social media is becoming more important as days pass by to target new leads and generate sales. If you haven't used social media to date, then you are missing out on a big chunk. Because most people expect their favorite brand to be on social media. It helps legitimize your brand for your prospects and provide them the opportunity to interact with you.
Also, social media is a perfect place for creating social proof about your brand. You can post reviews or user-generated content featuring your products or services. This will tell other users that you are a trustworthy brand to make purchases. You can also post your own content and maximize your reach to directly connect with potential customers.
Not only that, but social media platforms also offer paid advertising to run different promotional campaigns to go beyond the organic reach. Each platform offers a distinct way to promote your brand which allows you to reach interested prospects effortlessly.
Beyond all that, social media possess more value and offer so many more benefits that make it a necessary part of our everyday life.
Benefits of Social Media Development for Businesses:
Social Media has certainly been useful most of the time. From a communication tool to sharing personal data, social media is a huge part of everyone's everyday life. And we have picked the top benefits of social media development for businesses.
1. Fast & Easy Communication
Social media help your customers to get in touch with your support team faster & easier. Also, businesses now can respond to their customers' queries or grievances rapidly & effortlessly. The whole process has become so streamlined and is no longer a difficult one as opposed to challenges faced in the past.
Social media communication is faster and effortless than ever before. Also, brands now get the real opinions & feedback of users in real-time something that businesses were longing for.
2. Networking & Partnership
Not only does social media offer simplified communication, but there's also the aspect of availability. Without the right kind of tools, it would be nearly impossible for an average human in one part of the world to reach and communicate with other humans in other parts of the world. Also, it would never become possible to interact with your favorite celebrity, athlete, and high-profile people, if it wasn't for social media.
While it can be fun to get a follow back from your favorite personality, it also possesses an endless potential for networking and partnerships that'll help brands in many ways. With the help of social media, you can build quality relationships and partnerships with influencers which helps you to earn a lot of value for your brand.
3. Boosts Organic Reach
Social media hold so much potential and value for brands and businesses besides networking, communication, and partnerships. Google has said many times that social media likes, favorites, shares, and others aren't considered as direct ranking factors. However, social media popularity/activity and its effect on Google ranking have some indirect correlations.
Even though the shares and backlinks from social media do not serve as potentially important, other people and brands seeing your content via social media may link to your brand's quality content. Thus those shares and backlinks do have some value to pass on and boost your organic reach.
4. Increase in Website Traffic
Your social media channels act as a supplement to your brand's website or brick-mortar store if you have one. Different kinds of audiences use social media for different kinds of purposes mostly for entertainment. Thus, it gives you the chance to reach those different kinds of audiences you have never engaged before and try your business out which will translate to an increase in website traffic and sales.
5. Gain Valuable Insights
Most of the social media platforms offer insight into your customers and how they interact with your posts. These insights will help you make better, smart, and informative decisions. For instance, you can watch out for what others have to say about your products or brand and respond to such conversions.
Finding answers to what people like about your brand or product or how you can make your offering better to meets the needs of your audience will help you stand out from your competitors.
Wrapping Up
The right use of social media is more beneficial than anything else. It helps you to create engaging content and share them across platforms to get users to interact with your content. Unlike other media outlets, social media allow you to connect with the audience in an instance and make them your loyal customers.
Thus, if you want to leverage the benefits of social media development and want to take a piece of the pie for yourself by creating your own social network, then you go for our social media development services or contact us right now for more help.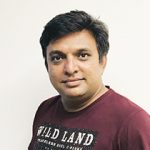 About Hemant Parmar
Hemant Parmar is an eCommerce expert and a keen Magento consultant who specializes in meeting the needs of businesses in the e-commerce space. Years in the eCommerce market make him a perfect choice for sharing his expertise on eCommerce and Magento 2 development. He believes that customers need to be met no matter how challenging it might be.
Read More