While online shopping is getting simpler for consumers, it's getting more complex for enterprises to manage their internal operations. Without the use of external forces like ERP, it's hard for businesses to handle all the activities from inventory to marketing and everything in between. Enterprise Resource Planning or ERP provides a means to centralize all the business communication and make everything less cluttered and more efficient.
Integrating ERP in your business processes has many immediate benefits like tracking inventory, order flow management, shipping & delivery handling, marketing output tracking, enhanced productivity, lower labor costs, etc. The software provides accurate real-time data based on which you can take better decisions in almost all aspects of the business.
In this ever-expanding sphere of online, it will be the wisest decision to integrate ERP software into your business. While we are on the subject, let's quickly recap what is ERP & ERP integration.
What is ERP?
ERP short for Enterprise Resource Planning is a business management software that simplifies organizational flows, gathers data, manages processes, tracks activities, and does all sorts of other things. The tool can help businesses of any size to efficiently manage & automate many functions and activities including accounting, marketing, resource planning & distribution.
Thanks to ERP's centralized data, businesses find it appealing as well as easier to share data across departments. One of the biggest strengths of ERP is automating business processes, for instance, gaining sales orders and sending them automatically to the accounting department or head for further analysis. To understand the same in more detail, let's get to know what ERP integration is.
What is ERP Integration?
ERP integration simply refers to the integration of the ERP software into a business's internal operations. The software synchronizes business applications like eCommerce, CRM, marketing tools, and & other databases. The integration ensures that the required information is shared consistently by automating workflows and only accessed by the authorized person.
In short, the ERP system help businesses connect with several data points to bring you meaningful & important data, which seemed hard beforehand. For instance, a visitor submits a request for a product demo or purchases the products on your eCommerce storefront. The CRM tool here will help manage that visitor lead & analyze its point of entry, lead quality, position in the sales funnel, & others.
In general, what your ERP software will do is communicate across the platforms you use and aggregate data from omnichannel. The bigger a business gets, the more complicated it becomes to handle each data point & inconsistent & clunky data will become a day-to-day thing. And ERP integration eliminates this scenario to have an efficient & centralized workflow.
Why You Should Go for ERP Integration?
The simple answer to this is to keep up with the ever-demanding digital economy & help your enterprise easily receive new orders, fulfill them & provide customers with real-time access to their information & customer service. ERP integration will fulfill the needs of modern retailers by orchestrating processes on automate to provide you with detailed planning & forecast to enable innovation for your enterprise. Here're the most common benefits of eCommerce ERP integration:
1. Data Integrity for Superior Data Quality
What businesses need the most to thrive in their niche is data. Be it eCommerce or any other industry, they all need data like what their customers purchased, sources for their lead, channels they use for purchases, and many more background details. This is where ERP comes in handy. It not only captures data but also integrates it for a qualitative view.
Data integration helps eliminate data silos to provide more accurate data across departments. Moreover, accurate data helps make accurate decisions by ensuring that duplicate data is removed & replaced with the correct data. Another benefit of integration is customers can change their information like name, address, or contact details without manually chasing it down.
2. Significant Cost Reduction
Thanks to the data integration and automation by ERP tools, a business may not suffer from the cash crunch. By automating lengthy processes, ERP can improve the efficiency of a business by enabling it to make more informed decisions.
The deeper integration ERP has with your business, the better it is for the software to collect & present the data and help you transform the business. And in turn, this will enable your business with enhanced ROI and reduce costs as well.
3. Better Customer Understanding
Another way ERP integration can help your business is by improving your marketing intelligence. With ERP integration, you'll know more about your customers and understand them even better.
Moreover, the ERP system can report data about your customers allowing you to make better and informed decisions. Information like what customers have purchased, where they come from, who referred them, what additional product they purchase, etc. can help a lot for your business growth.
4. Improve Relationship with Customers
Data integration with ERP also helps improve customers' experience with you and your relationship with them. Aspects like order information, tracking ability, and self-service options such as accessing past orders, payments history, returns, etc. improve the customer experience. Moreover, the businesses can quickly react to customers' problems like out-of-stock products.
Providing timely order information to your customers is perhaps the biggest benefit of ERP integration for your business. Collectively, this all improves your relationship with your customers.
How Can You Overcome the Challenges of ERP Integration?
Integration is a complex process to start with and each project has different challenges out which some will be detected even before the integration starts, while others won't come out even after integration is over. Here's how you can overcome your challenges:
1. Align Your Goals with Business Operations
Different types of businesses have different and unique goals and ERP integration for them will differ vastly as well. So, it becomes important for businesses to align their goals with their business operations. Another thing to make sure of is to use appropriate ERP software for integration. The thing here to note is what custom integrations are required so that the selected ERP solution can perform such integrations.
Besides, ERP integration is not a one-time thing because as you scale your business, your goals and objectives will change. With new database connections or an increase in data point specification, the ERP integration also needs to be updated.
2. Standardize Data Across Applications
Since different applications show data in different formats, you'll come to know that some data points are not accepted by ERP as is, thus, necessitating the data standardization across applications. So, each time a new application is integrated with the ERP system, you must ensure that the APIs of both systems accept the data in the same format. This will make your ERP integration smoother.
3. Future Requirements
Integration requirements don't generally change that much from business to business. Though some businesses may have a unique set of ERP integration requirements. And as the future possibilities get clear, it becomes important for businesses to look beyond their current requirements and pain points. Also, make sure that the integration platform you choose can support your expansion plan.
Conclusion
ERP integration is a tool for businesses to automate their processes and make each department efficient with real-time data accessibility. To reap the full benefits of ERP integration, enterprises must integrate all their systems and operations with ERP.
While it may be challenging at times, understand that ERP integration has become a crucial choice for businesses with large data. This article perfectly derives how you can overcome challenges that impact ERP integration with your business.
Have ERP integration requirements for your business? M-Connect Solutions is a one-stop solution offering designing, development, integration, and customization services. The experts at M-Connect Solutions have ironclad proficiency to manage all kinds of projects such as ERP integration. Contact us to discuss things further and kickstart your project now.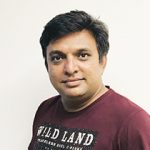 About Hemant Parmar
Hemant Parmar is an eCommerce expert and a keen Magento consultant who specializes in meeting the needs of businesses in the e-commerce space. Years in the eCommerce market make him a perfect choice for sharing his expertise on eCommerce and Magento 2 development. He believes that customers need to be met no matter how challenging it might be.
Read More