Today I'm going to share with you some of B2B (business to business) marketing strategies that pop out from some of greatest mind of B2B marketing experts. So you can utilize these strategies to make you B2B marketing more efficient and effective and also able to increase you ROI (Return on Investment).
Creating a very new framework
Perfect marketing doesn't merely attempts to influence what people think about a particular company's services and products. Prefect marketing instead focus on a creating a whole new framework through which people can easily evaluate your services and products.
The traditional approach to selling your services and products or services is to focus on single features of the solution. And that's why it's cheaper, faster, better than the competition. Instead of creating a new framework for your business professional to apply their industry experience, customer feedback and financial analysis to your solution, rather than just concentrating on only price.
Email training
One best and well know way to educate your prospects and stay top of the mind is with an email-based training series. Give the opportunity to your industry experts to help the prospectus and customers learn more about your business and your services. When your prospects or customers sign-ups, they able to receive a series of email at some interval.
Inside your email you should include all this topics summery of your company and product, a short case study that tell the practical examine of particular application. Provide a quiz after each lesson so the user will encourage making instant feedback what they learned.
Product discussion list
A very effective way to get feedback on your services and products is to engage your customers in the development of products process by using an email discussion list. Give authority to your engineers, designers and customer representative to interact with your customers in discussion forums. After all, your customers are the one who uses your solution to get there business goals…
Additional information by mails
Give your customers and prospectus a way to receive additional information from your business. Make an area where they able to select what docs they would like to receive via email. This will give you one way to communicate to your customers with your personal message.
There are too many tips which can helps to build search engine and user friendly B2B web portal. If you have an idea just express it, Our experts will offer perfect strategic web solutions for your application.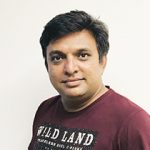 About Hemant Parmar
Hemant Parmar is an eCommerce expert and a keen Magento consultant who specializes in meeting the needs of businesses in the e-commerce space. Years in the eCommerce market make him a perfect choice for sharing his expertise on eCommerce and Magento 2 development. He believes that customers need to be met no matter how challenging it might be.
Read More