We shifted from the desktop web to mobile web and app era. We accomplish our day-to-day tasks including shopping on mobile devices. Users used to celebrate the digital screen transformation thanks to mobility advantages comes with it.
However, mobiles are not champions of user experiences that we feel with larger screens. Hindrance of UX on mobile devices are screen size, poor CPU capabilities, and low-latency, and weak Internet connections.
Mobile apps are overcoming all Internet attached cons easily by working offline and depends solely on client devices. Native mobile technologies put browsers and their constraints aside by accessing hardware and software features of the devices directly.
Now, our technology experts are in a dilemma if they totally leave the web in favor of the mobile apps they miss the advantages of the web such as distribution capacity and repeat use guarantees.
Web
53% of web users abandon a website if it takes more than three seconds to load.
A mobile-friendly website reaches users four (4x) times faster than mobile apps.
Mobile
As per the recent statistics, indicates that 77% of mobile users never open an app after 72 hours of downloading.
Mobile apps can engage users twenty times (20x) more than a website can.
Now, mobile apps are a reality, and mobile app development will stay for longer here. At another end, we cannot improve web experiences further using current web development technologies.
When there is a problem, definitely a solution exists, and we encountered with two innovations, AMP & PWA.
AMP stands for Accelerated Mobile Pages & PWA stands for Progressive Web App. Let's collect facts about both concepts before deciding which one is better, and why?
Accelerated Mobile Pages (AMP):
AMP is an open source project by Google, and it supports fully. Developers have to strip down all fancy things come with HTML, CSS, and in line, JavaScript to save bandwidth. Static content almost without images is displaying on mobile devices. No need to convert the entire site into AMP, instead, target only your landing pages to appear in mobile SERPs. Let's examine the pros & cons of AMP.
Pros of AMP
It accelerates page loading four times (4x) faster.
Chances of improvements in SEO and keyword ranking remains here.
You can witness support to Ads & ad formats with AMP.
News & publication sites get maximum benefits of it by being content-dominant sites.
Mobile traffic comes high in volume with AMP.
Cons of AMP
Due to missing engagement components low user engagement.
Slow images are loading due to lazy loading functionality.
User activity tracking is not possible with AMP. So, no analytics.
Unable to apply SEO tactics to improve ranking.
Due to lack of user engagement features not much useful for ecommerce like sites.
Progressive Web Apps (PWA):
As its name suggests, it converts web pages into mobile app progressively using capabilities of browsers. PWA works based on W3C manifests and services worker registration scopes and app-shell model adoption. These tech advancements convert selected and validated web pages in mobile browsers into native apps progressively/gradually.
PWA triggers notifications on repeated web pages usage of the same page, and upon valid permission of the registered users, it converts web pages into mobile app interface with all native capabilities. Everything happens in the background and users never know whether they are using live web pages or PWA interfaces offline!
With these insights, let's explore the advantages and disadvantages of PWA for your next mobile app development project.
Pros of PWA
Irrespective of network quality fast page loading.
No app installation on mobile devices.
Access by home screen icon
Smooth navigation and animations
Functioning offline
Maximum reach and a high rate of engagement.
A cheaper option than native apps.
Gives unified user experiences.
Comparatively secure and less intrusive.
Cons of PWA
Lack of support to all native features.
All devices do not support all functions.
The call is without dialer dialog.
Modification of logs and system settings.
Access to hardware features of mobile devices.
However, missing support for all hardware functionality.
Support for native OS features.
Complete customize app formation takes longer time.
All mobile browsers do not support it.
Conclusion
Based on the facts depicted throughout the blog, we know AMP is applicable and PWA. However, some industries demand both concept and functionality at a time to leverage offerings by both platforms. Therefore, many expert mobile app developers are working on an amalgamation of both technologies to improve user experiences, fast loading, and delivery of content. If things go well tomorrow, you might have an AMP+PWA solution in your hand.
However, today you have no option, but make a selection out of these two and team of M-connect Solutions is ready to help you. We can deliver high quality outcomes for AMP and PWA for your business in highly cost-effective ways. Are you ready to talk about your project?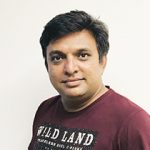 About Hemant Parmar
Hemant Parmar is an eCommerce expert and a keen Magento consultant who specializes in meeting the needs of businesses in the e-commerce space. Years in the eCommerce market make him a perfect choice for sharing his expertise on eCommerce and Magento 2 development. He believes that customers need to be met no matter how challenging it might be.
Read More