Due to the rise in mobile devices' usage, mobile commerce (also known as mCommerce) has increased exponentially throughout the last decade. New technologies such as Artificial Intelligence (AI) and the Internet of things (IoT) allow developers to build more appealing and more profitable mobile commerce apps.  Apart from some functionalities, mobile commerce and eCommerce are similar.
What is mobile commerce?
Mobile commerce refers to any transaction accomplished with any mobile device such as mobile phones, tablets, etc. mCommerce allows users to make purchases at any time, from anywhere. mCommerce offers mobile banking, easy money transfer, in-app payments, digital purchases, location-based services, and many more, enhancing the customer experience.
Nowadays, many businesses have started investing in mCommerce because they offer a better customer experience, are user-centric, keep records of user behaviour through analysis, and enable direct communication with a 24×7 message window.
In this article, you'll get more insight into mCommerce trends and stats to determine the prospective of mCommerce.
Mobile commerce stats:
mCommerce is growing exponentially with time passing. Here are a few statistics that will help you understand the potential of mCommerce and the development in the near future.
Almost half of the buyers shop via mobile devices worldwide.
Emarketer says that Mobile commerce is expected to surpass 50% of total eCommerce sales in 2021.
Mobile commerce is predictable to overtake non-mobile commerce in 2021.
Almost 80% of buyers used mobile devices instead of going to a physical store to look for product reviews and compare prices.
The mobile commerce revenue is expected to reach around $3.56 trillion by 2021.
As per Think with Google, If people don't have a pleasant experience in your mobile store, they are 62% less likely to visit your store in the future.
According to Statista, From 2013 to 2020, retail mCommerce sales in the US were $338 billion.
Trends of mobile commerce:
Now that you have a better idea about general mobile commerce developments, here are the ten latest trends in mobile commerce that will be more extrusive in the future.
Augmented reality:
Many customers don't prefer to buy the product if they can't see it; that's when AR comes into play. AR allows retailers to publish their products in more realistic ways for users to try out the products before purchasing.
According to Statista, AR and VR industry is expected to reach around $35 billion by 2025.
Many industries use AR in their mCommerce apps, such as interior designing, makeup and fashion, eyewear sellers, and many more. Lenskart is a good mCommerce app example; it allows users to try out the frames on their faces from multiple angles virtually.
In the future, AR headsets will enhance the user experience by allowing them to try out different outfits and map-out their apartment for correct measurements before buying sofa or cupboards without going to the stores. By delivering accurate images, AR gains customer loyalty and helps to boost the sale.
Voice search:
Due to the increased usage of virtual assistants like Siri, Amazon Alexa, and google assistant, voice search will become one of the trends in mCommerce. Half of the people use voice commands to search for the products, while more than 20% people use voice commands to purchase the products. In the future, voice searches will make the user experience smoother, allowing mCommerce to expand.
Chatbots:
Chatbots are an essential key for mCommerce trends, that's why businesses are investing in chatbot technology and integrate it into customer support programs. 24*7 instant support, detailed answers, easy communication, quick problem resolving, answer to easy and complex questions, and a friendly approach are some of the chatbot benefits.
Most of the young buyers prefer text messaging as a direct and convenient method of communication, which makes chatbots an important aspect of retail business. Getting problems solved quickly will enhance the customer experience and will help you save more money.
Omnichannel:
Omnichannel is a practice of selling products through multiple channels such as an eCommerce website, mobile app, and in-store. Most people tend to compare products' features online or read reviews before purchasing the product. Customers are beginning to expect a combined experience on multiple channels. For example, the same login information for both website and mobile app, or exchanging an online product in the offline store.
You can offer customers some coupons, discounts, or recommendations based on their browsing behavior. For instance, if the customer has researched a specific product on your website and the next day they use the mobile app or visit the store to purchase it, you can trigger the discount to deliver a smooth Omnichannel experience.
In-store checkouts:
One of the most unpleasant shopping experiences is the long checkout queues. Therefore many companies are opting for the self-checkout feature. This 'in-store checkout' feature can elevate the customer experience by searching the product, comparing specifications, and easy payments.
Speed optimization:
A websites' speed affects how the site appeals, obtain, and keep the customers engaged. This way, sites' performances directly impact e-commerce revenue. Most people have more than four apps on their mobile phone, which takes a few seconds to load. Therefore, focusing on optimizing the speed is an important aspect of mCommerce. Any commerce domain needs to optimize app pages' speed and make sure that it loads quickly to deliver a flawless experience.
Social media approach:
Social media offers many selling opportunities; that's why your social media approach is essential. Social media enables brands to reach a large audience, engage with them, promote their services, and get more understanding into upgrade their business. Research shows that 51% of 18-36 olds are likely to buy products through social media. For example, Instagram allows users to shop directly from the photograph, benefiting both, the customer and the brand.
Personalization:
Most people prefer brands that offer them a personalized experience. Therefore, it is an important aspect of commerce domains. With users browsing history, behavioral shift, and other factors, you can find out their preferences and can create a personalized experience for them. Thus, creating more sales conversions.
Shopping and sales via mobile devices:
According to research conducted by Clevertap, 85% of consumer prefers mobile app. Rather than using a web browser, most people are going for the mobile app for a better shopping experience. Mobile devices will continue to dominate the sales in the future, and it is expected to reach up to $418.9 billion by 2024 said Business Insider.
Therefore, building an app for your commerce domain will give the customer a better experience and help you grow your business. You can send push notifications to contact the users, and it is more effective than a messaging platform.
Mobile payments:
The popularity of mobile wallets is increasing over the years, let it be online purchases or in-store purchases. And now, due to the coronavirus pandemic, most businesses are opting for mobile wallet payments. There are many mobile wallets, such as PayPal and Amazon pay are available in the market.
According to the report in Statista, digital payments will reach up to $275 billion by 2021.
It is a secure, quick, and contactless way to shop. Mobile app developers are building payment gateways for wearable technology so that customers can pay without their smartphones.
Conclusion
Mobile trends play an important role in the eCommerce industry to attract the consumer and increase sales. The majority of businesses have started investing in mCommerce app development. With the proper guidance and keeping all the trends in mind, you can create your app that fulfills the consumer needs and grow your business.
If you are looking for an app developer, M-connect Solutions can help you develop highly engaging apps for both Android and iOS. Contact us to kick start your project right away.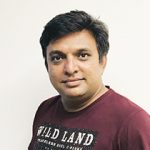 About Hemant Parmar
Hemant Parmar is an eCommerce expert and a keen Magento consultant who specializes in meeting the needs of businesses in the e-commerce space. Years in the eCommerce market make him a perfect choice for sharing his expertise on eCommerce and Magento 2 development. He believes that customers need to be met no matter how challenging it might be.
Read More