With the way conducting businesses have undergone a change, it becomes highly important for business owners to stay in reach with their customers. In order to tap this segment of the market, the brick and mortar businesses have made a foray into the online marketplace through the World Wide Web. But with change being a dynamic issue and an incessant one, it has paved way for a number of e-commerce websites that would carry out their business on the online marketplace. With people becoming more and more tech-savvy they have given up using their laptops which were touted as the epitome of luxury at one point in time and have replaced the same with high-end mobile devices which are capable of allowing the user to carry out his work that was possible through his laptop.
Hence there came the necessity for the business owner to see to it that he is in touch with his potential customers even when they are on their mobiles. Now came the time when the website owners saw to it that their websites were made mobile amenable so that they do not lose out on this market segment as they are not accessible on their mobiles while others are. This is how the transition has slowly set in and swept the entire shopping and commerce to such an extent that there is no looking back. And it has reached such a state that an m-commerce website has become the order of the day for the business to be more accessible to its potential customers, and hence attained the status as being an indispensable and an important business aspect that the business owner cannot afford to overlook.
But why does one have to consider m-commerce websites as a part of their business plan?
The main reasons, we have listed amply above, but another main reason is that the latest smartphones are dominating the mobile internet market and iPhone predominantly amongst all. As the smartphones are used by the affluent people, business owners would want to make the most of this chunk of the market segment and an m-commerce website becomes an important means through which they can stay connected with their customers or prospective customers.
The retailers can offer better and richer experience through smartphones as they come in with features like GPS and location based services. Business owners have also noted that majority of their customer population use iPhone, Samsung Devices, Blackberry, Nokia N-Series and Android phones and have a high degree of website compatibility. So, keeping all these in mind, it becomes highly essential that the businesses have m-commerce websites if they do not want to lose out on this section of the market.
There are quite a number of advantages that the m-commerce websites bring along for any business. Well, there was a debate where apps and m-commerce websites were juxtaposed and whose prevalence was preferred over whom was also assessed. Eventually it turned out that it is the m-commerce websites that will be beneficial in the long run than just having apps on the mobiles or smartphones. Apps generally have a tendency to restrict the appealing factor to the customers where as just the opposite could be achieved with the m-commerce websites.
And apps would have to be downloaded well in advance. And when customers do not have a specific app, they are barred from accessing or buying from your store. Therefore, m-commerce websites are found to be far more appealing to mobile searchers than having apps on their mobiles. There is no need for approval by any third party if you have an m-commerce website. But, if there is an app in its place, you will have to secure the approval before its release and also before making adjustments. But, when the business has a mobile commerce website, the site design can remain unrestrained and the owner can push out messages, updates or any changes as per his business demands.
A single mobile commerce website is adequate and you will not have to consider designing multiple apps. Developing apps for the N number of handsets that are available would really be a lengthy and a cumbersome process. Having one mobile commerce website would suffice to capture your segment of the market and you will not at have to design the apps.
Therefore, when the retailer is looking out to reach the maximum audience base to find customers for his services as well as products, an ideal starting point would be to have a website that is fully optimized for different types of smartphones and mobile sets which will allow you to stay accessible to all kinds of audience. Optimization will allow your potential customers to stumble upon your website through the search engines.
Research has stated that the browser based mobile marketing is the face of marketing and business in the times to come. This browser based mobile internet marketing will witness sharper growth than the app market and hence it is the eCommerce websites that will rule the roost and hence are an important aspect for every business.
As your competitors are into this arena, it gives you all the more reason to have an m-commerce website for your business too so that you do not lag behind and they do not get a competitive edge over you. As the development costs involved with a mobile website are very low, almost all business owners can plan to have one definitely for the kind of benefits it brings along.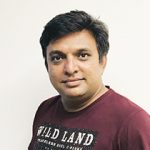 About Hemant Parmar
Hemant Parmar is an eCommerce expert and a keen Magento consultant who specializes in meeting the needs of businesses in the e-commerce space. Years in the eCommerce market make him a perfect choice for sharing his expertise on eCommerce and Magento 2 development. He believes that customers need to be met no matter how challenging it might be.
Read More