In today's fast and mobile world, manpower is on-the-go most of the times. If the employees can have 24 / 7 access to business applications, they can become more productive. An organization should build the required mobile applications and monitor their performance and usability.
---
Recent advances in Smartphones and tablets and their qualitative mobile networks have given a thought of Mobile application Lifecycle Management to IT.
---
IT must plan Mobile application Lifecycle Management to address the areas of development, distribution, testing, support and security. Many of the mobile operators offer the services with high speed but they are restricting capacity of data plans. IT uses BYOD (Bring Your Own Device) approach for supporting the number of platforms and providing security and management.
Mobile Application Lifecycle Management has an aim to deliver the end product with higher quality. Hence, it has to repeat the steps in this process in a controlled manner.
The steps in the Mobile Application Lifecycle Management are as follows:
Definition
Planning
Designing
Development
Testing
Deployment
Management
Firstly, it is essential to understand the nature of the task. Following points should be considered:
There is a higher security risk that mobile devices can be easily stolen or lost due to negligence.
Mobile networks do not have much reliability and they are slower in providing the required connection.
The processors of mobile devices are slow with less capacity for memory.
The battery can also be a matter of concern.
Due to non-availability of unlimited data plans, services for mobile data have become costlier.
Understanding the aspects of Mobile Application Lifecycle Management is very important, which is explained as follows:
1.) Planning & Designing: In order to take future decisions, it is important to consider the present and future uses of the applications. Due to large market of devices and hardware and software solutions, the decision making process becomes more difficult. It is also necessary to look into frequent changes and updates in the applications so as to make sure its quick deployment. To enhance the user experience, offline functionality must be given consideration.
2.) Development & Testing: The important aspects of development stage are device detection, limited bandwidth and memory management. Offline data should be available and it should be updated.
The next challenging task is to test the mobile applications. It involves huge amount of expenses. It is necessary to test the applications in various situations at different bandwidths. Pre-flight test, Beta testing, Scalability test, device test, automated unit test, etc. are different tests undertaken for various reasons.
3.) Deployment: Deployment of applications is an easier task as they are delivered to the application stores. In-house applications are available in separate application stores. If the company applications are to be given to customers or distributors, it is even more difficult.
4.) Updating: Dynamic updating of the applications is important. The users have to install the new application first. But the research shows that the users continue with the older versions of applications.
Mobile Application Projects come up with varied designs and styles. Mobile Application Lifecycle Management is necessary to support user experience and new technologies. It is essential for a company to invest in the proper technologies.
Related Blog Post:
Tablets – The Next Booming Platform for eCommerce Applications
Mobile Website Vs Mobile Applications :: Compare The Concepts
Application Development Lifecycle Management
Mobile Web Site CMS: A Sneak Peek
Benefits of Mobile Portal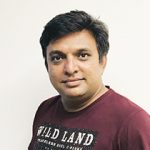 About Hemant Parmar
Hemant Parmar is an eCommerce expert and a keen Magento consultant who specializes in meeting the needs of businesses in the e-commerce space. Years in the eCommerce market make him a perfect choice for sharing his expertise on eCommerce and Magento 2 development. He believes that customers need to be met no matter how challenging it might be.
Read More